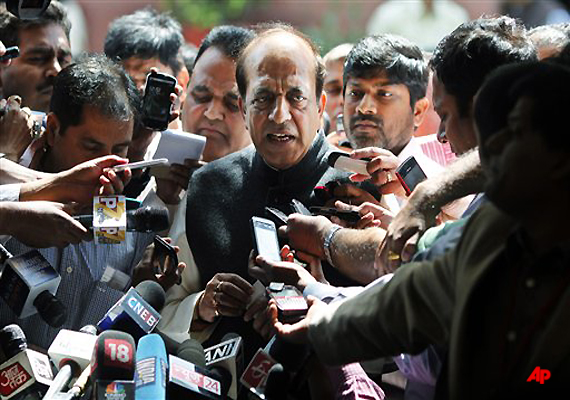 New Delhi/Kolkata, Mar 17: Continuing his defiance, Railway Minister Dinesh Trivedi today rejected Trinamool Congress directive to him to resign from the post unless given in writing as Mamata Banerjee insisted that Prime Minister Manmohan Singh should remove him.

61-year-old Trivedi, who incurred the wrath of his party by hiking passenger fares in the Railway Budget, appeared to be digging his heels when he said he had a Constitutional duty to pilot the Budget he had presented in Parliament.

"I have presented the Rail Budget in Parliament. On Monday there will be discussion. I have to answer the discussion on railway budget," he told reporters after his party chief whip Kalyan Banerjee telephoned him and asked him to quit.

Mamata told reporters in Kolkata that she had already said whatever she had to say and put the ball in the Prime Minister's court for a decision.

"Now the government has to decide. Mukul Roy will be our candidate for the Railway minister," she said on her demand for removal of Trivedi and replacing him with Roy.

Trivedi's defiance puts the Prime Minister and the Congress leadership in a bind in which they have to decide on the removal of the Railway Minister or allow his continuance at the risk of possible threat of withdrawal of support by Mamata Banerjee's Trinamool Congress. Trinamool Congress with 19 MPs is the second largest constituent of the UPA.

Highly placed Trinamool sources had claimed in Kolkata earlier that the Congress leadership had assured the party that Trivedi will be replaced after Finance Minister Pranab Mukherjee's Budget presentation yesterday.

Trinamool Congress Parliamentary Party leader Sudip Bandyopadhyay rejected Trivedi's claim that he has to reply to the budget discussion.

"There is a precedent. Mamata had resigned as railway minister of the NDA government after the budget presentation in 2001. The reply for the discussion was made by her successor Nitish Kumar. Mamata Banerjee knows the system," he said.

Bandyopadhyay said the Prime Minister had agreed to in principle to effect the replacement at an appropriate moment and he was supposed to implement it.

Speaking to reporters in Delhi, Trivedi said Kalyan Banerjee had called over phone in the morning and asked him to resign.

"I told him what is this, on Parliament floor it is said no resignation has been sought from Dinesh Trivedi, on the other hand you are saying this," he said.

"We should not work under confusion. I have just presented the Rail Budget and entire country has appreciated it. Members of Parliament, cutting across party lines, have also appreciated it. So, I have to carry out my responsibility as Railway Minister. I have to go and participate in the discussion, prepare for the reply which is slated on Monday," he said.

"I dont understand what is happening. Till the time the matter is absolutely clear, I have suggested I do not want to take anything verbal. For me, Parliament has more sanctity than anything. So, I suggested let Mamata write me a letter so that there is no confusion," Trivedi said.

The Minister said he was going to Rail Bhawan to work and prepare for the debate on the rail budget. "I will perform my duty as a Railway Minister," he said.

Trivedi said he had presented the Railway budget and cannot leave it half-way and run away.

"As far as resignation is concerned, I have no problem... but Prime Minister has not asked for any resignation. So where is the resignation issue coming up. PM is captain of our team. He is supreme," he said. "What discussion has taken place between the Prime Minister and Mamata Banerjee or which letter has come I don't know," Trivedi said.

To a question, he said he was a minister and would carry out his duty towards Railways.

"Railways cannot be left orphaned. Railway is national property, I do not belong to any individual. I am going to carry out my responsibilty as long as I am railway minister," Trivedi said.