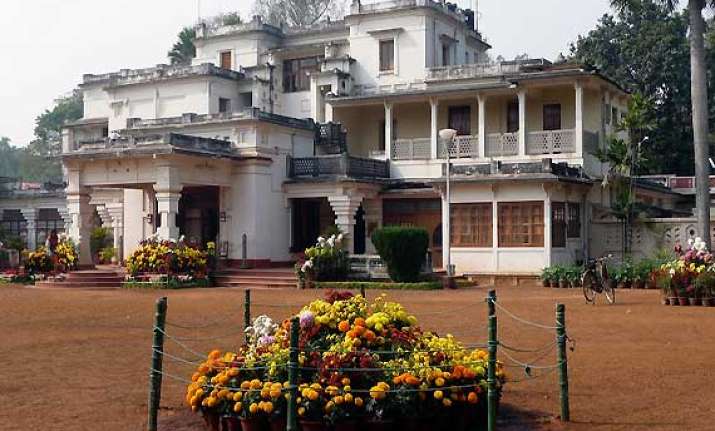 Kolkata: To preserve and display its rich collection of paintings and artworks of masters like Rabindranath Tagore and Nandalal Bose, Visva Bharati University has appealed to Tatas, Birlas, Goenkas and others of the India Inc for funds.
Visva Bharati's Kala Bhavana boasts of around 17,000 original art works of Rabindranath Tagore, Nandalal Bose, Binod Behari Mukhopadhyay, Ramkinkar Beij, Abanindranath Tagore, and other artists from the Far East.  
"But unfortunately we have not been able to keep them as we should because of paucity of funds. This is our national heritage and it runs the grave risk of being destroyed permanently unless we do something," Kala Bhavana's principal Sisir Sahana told PTI.
He said they had recently written to Sarala Birla from the B K Birla family and Sanjiv Goenka, chairman of the RP-Sanjiv Goenka Group, for help to set up a museum and develop infrastructure for better upkeep and preservation.  
"We are also writing to the Tatas and other big industrial houses with our appeal to help us financially," the principal of the institute of fine arts said.  According to their rough estimate, they need Rs four crore for the project.
Besides the paintings, their vast collection includes various statues and sculptures of historical importance. They also have old textiles from countries like Indonesia, Japan and China.
"We need to conserve them properly and then display it as well. We want to have a permanent exhibition centre in the museum rather than keeping it hidden in the archives," Sahana said, adding that they do not get additional funding from the central government to undertake such developmental activities.  
Earlier in the 1960s, the central university had similarly sought help of the Birlas and Goenkas after which they built two girls hostels in the campus.  
Visva Bharati is located in Tagore's abode of Santiniketan, 180 km away from Kolkata.  During the initial years of the university, Tagore used to write letters seeking financial assistance from kings.