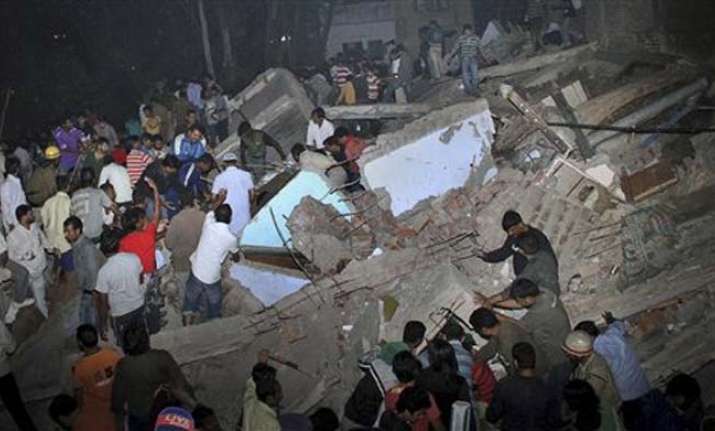 New Delhi, Nov 16 :  Huge mounds of concrete slabs, ambulances rushing out with the injured and locals removing the rubble with their hands to bring the trapped people out -- it was chaos and tension all around at the spot where a multi-storeyed building collapsed in east Delhi tonight.
The four-storey building gave in at around 8.15 pm in Lalita Park area of Laxmi Nagar when at least 100 people were inside.
Fire brigade, police and MCD officials rushed to the spot for the rescue operation and removal of debris, in which local residents also lent a hand.
Huge Concrete slabs and heaps of rubble were all around. Locals were seen removing the debris with their hands in search of people trapped inside.
People gathered in large numbers in the area and were clapping loudly every time a person was rescued from under the debris. Locals complained that initially there were no power and no cranes to help in the rescue efforts.
Ambulances and PCR jeeps were seen rushing the injured persons to hospitals.
Finance Minister A K Walia said at the spot that the foundation of the old building could have weakened due to the heavy rains in the Monsoon season when water of the Yamuna river flooded the area.
Locals said some water was still there in the basement of the building.
"I was going out of the house and as soon as I reach the gate, some pieces of plaster fell on my head. When I looked up, I saw the building coming down, I ran ahead and the whole building collapsed," an eye witness said. PTI