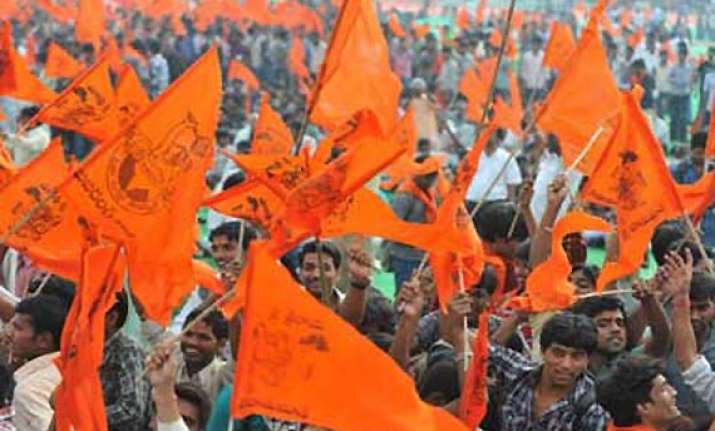 New Delhi: Ayodhya may once again become the scene of confrontation between the UP  government and Vishwa Hindu Parishad,  after the state government decided to enforce a ban on the VHP-sponsored 84-kosi Parikrama in Ayodhya and oher surrounding towns, but the seers pledged to defy it.
Security forces on Friday and Saturday staged a flag march in the religiously-sensitive town of Ayodhya.
India TV reporters took stock of the situation in UP towns, where the situation is said to be tense.
The 84 Kos Parikrama is scheduled from August 25 to September 13 to garner support for the construction of the Ram Temple.
The UP  government has deployed more forces into Ayodhya, banned seers' entry to the places on the route of the Parikrama and sealed Ayodhya's borders with six key districts -- Faizabad, Bahraich, Gonda, Ambedkarnagar, Basti and Barabanki.
Heavy police deployment is in force in the twin towns of Faizabad-Ayodhya and outsiders are not being allowed inside.
10 companies of the Rapid Action Force (RAF) and 14 companies of the Provincial Armed Constabulary (PAC) have been deployed in Faizabad, Barabanki, Bahraich, Ambedkar Nagar, Basti and Gonda districts.
VHP activists, meanwhile, are determined to make the foot march a success.
A large number of sadhus have already gathered at various shrines such as Char-Dham, Mani Ram Das Chawani and Guptar Ghat.
The yatra would have started from Ayodhya and covered the districts of Faizabad, Barabanki, Gonda, Ambedkarnagar, Basti and Bahraich before concluding in Ayodhya.
Arrest warrants have been issued against 70 VHP leaders  including Ashok Singhal, Ramvilas Vedanti and Praveen Togadia.