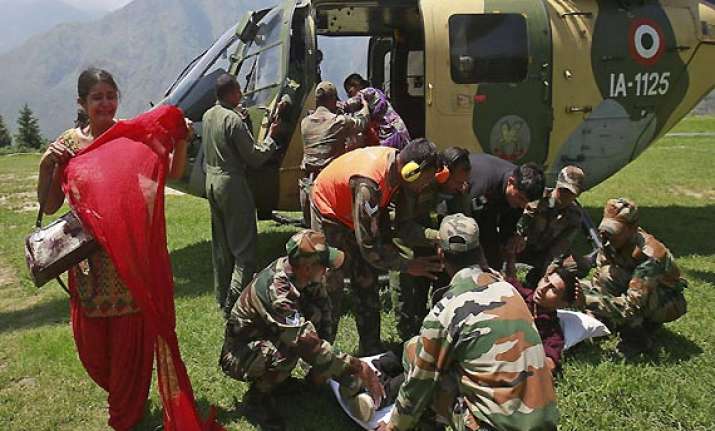 Dehradun/New Delhi, Jun 22: Racing against time in the face of predicted adverse weather, over 10,000 people were today evacuated from various upper reaches of flood-ravaged Uttarakhand, including the worst-affected Kedarnath, as the death toll may touch 1,000.
In all, 70,000 stranded people have been brought to safety in the mammoth ongoing multi-agency operations and more than 22,000 remain to be evacuated, according to information given by the Centre and the state government.
While tomorrow the weather may stabilise, those engaged in the operations are worried about the rain forecast for Monday and Tuesday that could hamper their work.
"The death toll is likely to be around 1,000," Chief Minister Vijay Bahuguna told reporters here as the Himalayan tragedy unfolded after the gushing waters left behind a trail of death and destruction.
A conclusive figure can be arrived at only after the slush and debris under which bodies could be buried are cleared, he said.
Officials said 123 bodies were recovered from the Kedarnath temple complex raising the official death toll to 680. Army officials said 83 bodies were identified and handed over to authorities.
Mounting the biggest-ever operation to evacuate people from a disaster zone in peace time, 61 helicopters, including 43 of IAF and 11 of the army, were deployed. World's biggest Russian-made MI-26 helicopters that can carry about 150 passengers were pressed into service today.
Information and Broadcating Minister Manish Tewari told reporters in Delhi that while the Army and ITBP rescued 4,000 people each, air force chipped in to move the rest.
He said all central and state government agencies were working in full coordination, a point he made hours after Home Minister Sushil Kumar Shinde said there seemed to have been some lack of coordination.
Former Home Secretary V K Duggal, who is also a member of the National Disaster Management Authority, has been appointed to coordinate the work of various agencies in rescue and relief operations.
The government Saturday denied that there was any lack of co-ordination between its agencies engaged in rescue and relief operations in Uttarakhand, while putting the death toll in the flood-ravaged state at 557.
Home Minister Sushilkumar Shinde had said in Dehradun this morning that there appeared to be lack of coordination between agencies, but this was denied in the evening by the I& B minister.
Information and Broadcasting Minister Manish Tewari told media persons that there was "complete co-ordination" and "harmony" between the different agencies engaged in rescue and relief operations.
Stating that as of now 70,000 people have been evacuated from the flood-hit regions of the hill state, he said: "Let me tell you in unambiguous terms that there is absolute and complete co-ordination between various agencies active in relief operations."
Giving an update on the status of relief and rescue operations, Tiwari put the death toll at 557, with 412 injured. He said that 22,000 people were still stranded in the flood affected upper reaches of the state.
He said that on Saturday, about 10,000 people were evacuated, of which the Indo-Tibetan Border Police (ITBP) and the army evacuated 4,000 people each. Of those rescued by the army, 2,000 were from critical areas.
Despite bad weather, the Indian Air Force carried out 150 helicopter sorties till Saturday afternoon, said Tewari, adding that in all, 61 helicopters - 43 of IAF, 11 of army and seven private - are engaged in the rescue and relief mission.
Congress is sending party general secretary Ambika Soni and treasurer Moti Lal Vora on a recce operation tomorrow, as angry complaints continued to pour in from relatives of pilgrims.
Congress communication dept chief Ajay Maken today issued a list of measures taken so far by the state government.
 Senior IAS officers have been specifically designated as Nodal Officers for coordinating various works in Badrinath, Guptakashi, Gangotri, Dharchula and Haridwar.
PCS Officers have been posted to provide an extra hand to the existing machinery at various places including Rudraprayag, Gangotri, Harshil, Fata, Guptakashi and Dharchula.
In addition to this, 1640 Patwaris, 152 Kanungos, 95 Naib Tehsildars, and 79 Tehsildars are actively doing the relief work in the districts by way of coordinating and using the help received from various quarters, Maken claimed.
DIG of Garhwal is in Rudraprayag monitoring the rescue operations while Neelesh Barane who had served in the district earlier as SP has been specially posted in Rudraprayag for evacuation work.
One Commandant has been posted in Kedar Ghati alongwith the SP of SCRB.
Uttarakhand government is providing each evacuee with an assistance of Rs 2000, Maken claimed, even as survivors alleged that they were completely fleeced by the locals while buying water and basic food.
On Saturday, the State Government did 100 sorties evacuating 400 people,  while those of the Air Force made 33 sorties evacuating another 400, Maken claimed.
PWD has been able to open 549 roads for movement and has deployed 364 machines (including more than 250 JCBs) and 5775 employees for road clearance work in the area.
 It has been decided that Jangal Chatti would now be the focal point for rescue operations and major resources have been diverted to this area.  
After opening of National Highway, more than 18,000 people have been evacuated from Guptakashi & Fata in Rudraprayag and Chinyalisaur & Nalupani in Utarkashi and have been brought to Hardiwar and Dehradun.
The State Government has deployed 922 buses  for evacuation purposes and more than 200 vehicles have been deployed to bring the stranded people to Haridwar and Dehradun, Maken said.
73,000 stranded pilgrims have been evacuated from Rudraprayag, Chamoli, Uttarkashi, Tehri and Pithoragarh.  2000 people from Ghangria reached the Camps and 500 were evacuated from Garunchatti in Kedarnath today, Maken said.
Oil companies have made available 9,40,000  litres of diesel and 4,76,000 litres of petrol to the districts.