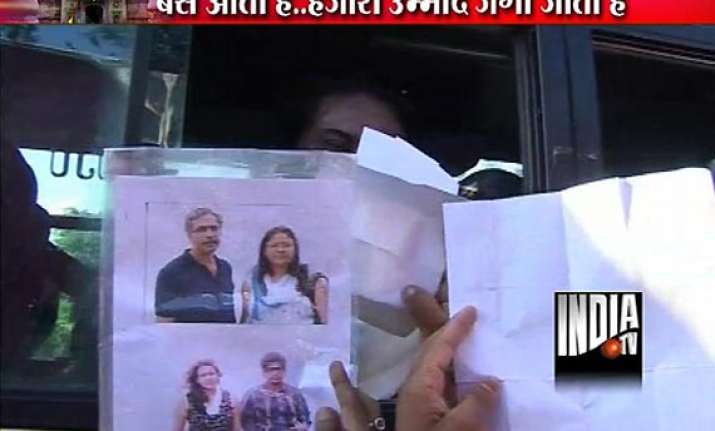 Dehradun, Jun 27: As the nation plunges into grief over the death of thousands of devotees of Lord Shiva in the flood-ravaged hills of Uttarakhand, there are bands of hundreds of people hailing from different states of India, whose daily regimen is to display pictures of their near and dear ones in Dehradun, asking survivors: "Aapne inhe dekha hai? (Have you seen them?)"
Well, nobody is sure whether he or she has "seen them", but the indefinite wait is torturous. The relatives weep in silence, as their patience is thinning out on Day 11 of the disaster.
People hailing from different backgrounds and cultures, from places in Madhya Pradesh, Uttar Pradesh, Punjab and Haryana, crowd around buses holding pictures of their missing relatives.
"Aapne inhe dekha hai?", shout several of them. The haggard-looking survivors, sitting in the bus, free at last from the scourge of all-encompassing Death, shake their heads after watching the pictures.
The same is the routine outside Jolly Grant airport in Dehradun. As the survivors come out of the airport in buses, after being rescued by Army, IAF and ITBP, the crowd of relatives beseech them to at least have a glance at the pictures, and tell them, whether they have seen their dear ones.
So far, most of the responses have been negative.