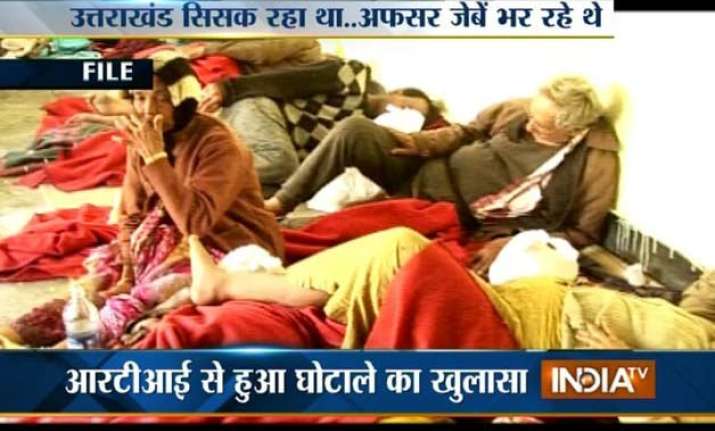 Dehradun: When lakhs of people in flood-ravaged Uttarakhand went hungry during the 2013 disaster, officials of the state government were busy utilising Rs 7000 per day allowance given to them for supervising relief efforts. Some of them even went out of way to ensure that the "opportunity" do not go "waste".
A normal daily day diet of these officials included mutton chops, chicken, milk and cottage cheese. This is when a large part of the state were struggling for two square meals a day.
An RTI reply has revealed a scam in the allowance claims made by the officials involved in the rescue and relief works.
To ensure that every penny of the allowance was utilised some of them even produced fake bills, it seems.
One of the bills says that 500 ml milk was bought at staggering price of Rs 194. Petrol two wheelers were refilled with diesel. Relief was paid twice to the same people. It could be a mere coincident also, but 1800 rain coats were purchased for three days from the same shop.
A series of RTI queries by activist Bhupendra Kumar also stated that a payment of Rs 98 lakh was made against refill of helicopter used the operation.
India TV accessed the hotel bills and the registration number of scooters used by officers during the relief and rescue operations.
Surprisingly, records show that some of bills are dated before the floods had even hit the state.
A few of the official bill are dated in May. This is when the floods triggered by very heavy rainfall and cloudburst in Uttarakhand marooned region on June 16.
Meanwhile, Uttarakhand Information Commissioner Anil Sharma has taken cognizance of these alleged irregularities and suggested a CBI probe.
Meanwhile, Chief Minister Harish Rawar has ordered the Chief Secretary to initiate probe into the matter.
When former CM Vijay Bahuguna was asked about the scam, he said, "The NDRF was involved in rescue and relief works. Pointing fingers at me only is not right. And the prices of commodities in disaster time increases drastically... you will get Rs 100 item for Rs 1000."