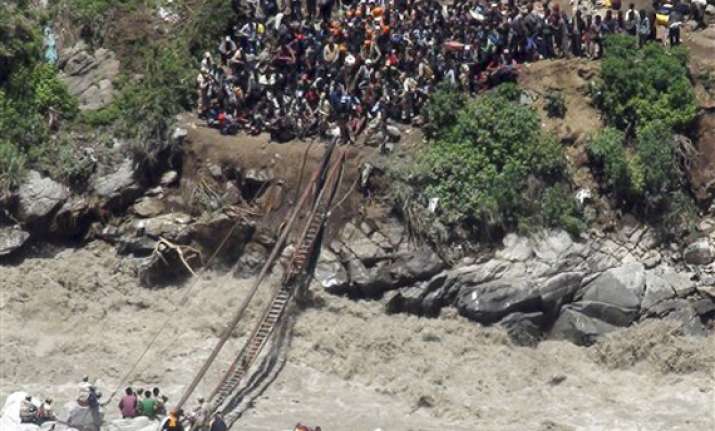 Dehradun, Jun 22: The death toll in flash floods and landslides in Uttarakhand crossed 550 as rescuers intensified efforts today to evacuate 50,000 people still stranded in different inaccessible parts of the hill state.
Chief Minister Vijay Bahuguna, who gave the updated death toll, said tonight that 556 bodies were recovered from under the debris.
"556 bodies have been recovered and there were reports that more could be buried under the debris," Bahuguna told a news channel.
Bahuguna also said it will take another 15 days to complete the evacuation, adding "this kind of disaster has never happened in the Himalayan history".
"Evacuation is taking time because roads are damaged."
It was not immediately known if the death toll included 40 bodies found floating along the Ganges river near Haridwar.
"40 bodies have been recovered from different points along the Ganga since last evening... Senior Superintendent of Police in Haridwar Rajeev Swaroop said.
As the terrible magnitude of nature's fury continued to unfold and survivors spoke of untold miseries, the death toll was expected to rise with Uttarakhand Principal Secretary Rakesh Sharma saying casualty figures can be "shockingly high".
Union Home Minister Sushilkumar Shinde earlier said the death toll touched 207 but at the same time said it could go up.
"So far, 207 people have lost their lives. But the toll may go up as debris in many areas is yet to be cleared", he told reporters in Delhi.
State government officials had also earlier said that 207 bodies were recovered.
Nearly 34,000 stranded people were evacuated in operations on a war footing launched by multiple agencies including the Army, IAF and ITBP since the heavy monsoon rains pounded the state a week ago.
Rescuers were focussing on rain-ravaged Kedarnath area where 250 people are stranded before shifting focus to Badrinath where 9,000 people are stuck, officials said.
The IAF deployed 13 more aircraft for relief and rescue work, taking to 43 the total number of planes in operation.
There were also reports that hundreds were missing following the monsoon rains that pounded Uttarakhand on Sunday.
Bahuguna said no authority or body could have handled the calamity of the scale and magnitude being faced in the state.
"It will take a long time to rebuild Kedarnath," he said, adding there will be no Kedarnath Yatra for at least next two years.
Kedernath, a holy town, bore the brunt of nature's fury with reports saying that scores of bodies lay strewn in the area presenting a gory picture.
The Chief Minister also said the state administration was not warned of any cloudburst.
The aircraft being deployed for the rescue operations included IAF's heavylift Mi-26 helicopters--the world's largest chopper--for transporting fuel and heavy equipment required by the Border Roads Organisation (BRO) to clear roads closed due to landslide and also set up an airbridge in one affected area to pull out stranded persons.
Efforts were also underway to rush food packets amid reports that hundreds of survivors did not get anything to eat for days.
"We have evacuated 34,000 people from various parts of Uttarakhand but 50,000 people are still stranded," Shinde said after a review meeting on the situation in Uttarakhand.
Information and Broadcasting Minister Manish Tewari said IAF has deployed 13 more aircraft taking to 43 the number of aircraft involved in relief and rescue operations.
Army's GOC-In-Chief Central Command Lt Gen Anil Chaith said evacuation of all people stranded in the affected areas of Uttarakhand may take many days considering the scale of devastation and any number of helicopters for rescue job is not enough.
"I would say we should engage all the mechanism and equipment at our disposal in the evacuation of stranded pilgrims and people. Massive damage has been caused with vast stretches of roads totally washed away," he told reporters.
He said the victims can only be airlifted in choppers which on an average have a capacity to accommodate only 20--25 people whereas thousands still are stranded and the Army urgently needs more choppers.
The General pointed out that the calamity has wreaked havoc in a 40,000 sq km area. The area of Uttarakhand is 51,125 sq km.