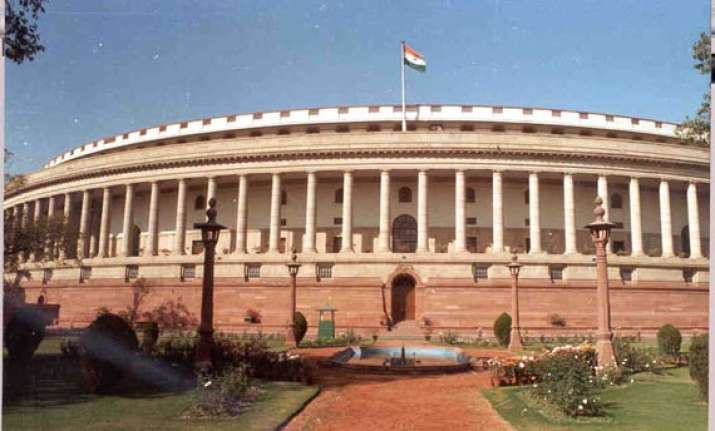 New Delhi, Nov 25 : Government decision to allow FDI in retail saw uproar in both Houses of Parliament, with ruling UPA ally Trinamool Congress leading the charge and the entire opposition joining them.

Soon after Speaker Meira Kumar condemned the attack on Agriculture Minister Sharad Pawar, Trinamool Congress members rushed near the Well of the Lok Sabha demanding cancellation of the decision of the Union Cabinet to allow 51 per cent FDI in multi-brand retail and 100 per cent FDI in single-brand retail.

Members of CPI(M), CPI and BJP were seen in the aisles raising slogans against the government's decision and trying to unfurl banners demanding roll-back of the Cabinet decision taken last night.

Some members from Kerala were seen waving copies of Malayalam newspapers carrying a report on Tamil Nadu government's decision to ban a movie that depicts of a dam burst.

In the melee, Congress members from Telangana were also seen rushing to the Well with placards demanding carving out a separate state from Andhra Pradesh.

As noisy scenes continued, the Speaker adjourned the House till noon.

Similar scenes were witnessed in the Rajya Sabha where the entire Opposition created ruckus on the issue of FDI in retail soon after Chairman Hamid Ansari condemned the assault on Pawar.

Leader of the Opposition Arun Jaitley rose to make a statement but could not speak in the din.

AIADMK members showed a vernacular newspaper that reported on the movie 'Dam 999', that the party alleges has shown the Mullaperiyar dam in Kerala that feeds Tamil Nadu.

Ansari asked members not to show newspapers and repeatedly requested for order in the House so that Jaitley could speak.

"How do I call anybody (to speak), if this (pandemonium) is going on," he told S S Ahluwalia (BJP), who kept pointing that Jaitley wanted to make a statement.He then adjounred the House till noon.