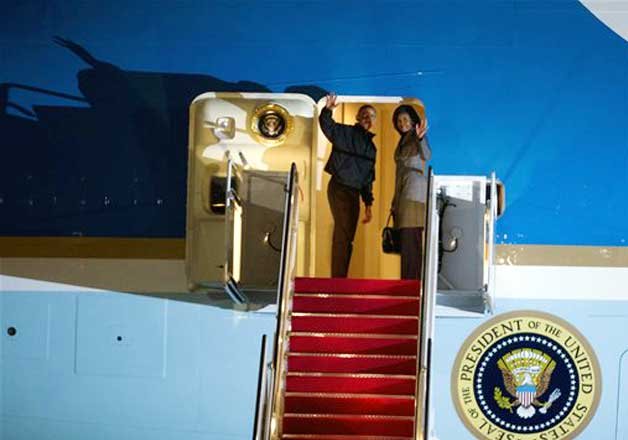 New Delhi:  US President Barack Obama has left Andrews Air Force Base this evening for his highly anticipated three-day landmark trip to India on an invitation by Indian Prime Minister Narendra Modi.
Obama is accompanied by a sizable delegation that includes several top officials, as well as First Lady Michelle Obama, when he arrives in New Delhi tomorrow morning, the White House has said.
Meanwhile, US President Barack Obama and his wife Michelle's visit to Taj Mahal in Agra has been cancelled, Uttar Pradesh government officials said on Saturday.
Sources in Ministry of External Affairs said that the Indian security agencies and their US counterparts failed to reach a common consensus over facilitating US President's visit to Agra to see the Taj Mahal.
According to a Supreme Court directive, petrol or diesel driven automobiles within a 500-metre radius of the Taj Mahal are prohibited and that VIP guests are allowed to travel in a battery operated car only to reach the site.
The US administration, however, has clarified that Obama's visit to Agra has been cancelled as the President will leave from New Delhi to Saudi Arabia whose king Abdullah died on Thursday night.
After Americans informed the change in the programme of the President, all concerned security agencies and local administration has been conveyed the same.
A senior UP government official in Lucknow said that Obama has cancelled all his personal programmes as he would be travelling to Saudi Arabia.
The US President, who will be arriving in India tomorrow for talks with Prime Minister Narendra Modi and be the chief guest at the Republic Day, will leave India on January 27.
As per the schedule, Obama, accompanied by his wife Michelle, was slated to visit the Taj Mahal on January 27, the last day of the three-day long high profile visit.
Bill Clinton was the last US President to visit Taj Mahal in his own vehicle in March 2000 because SC ruling had not come by that time. After SC ruling, President Nicolas Sarkozy of France in 2010 and President Vladimir Putin of Russia in October 2000 used battery cars to reach Taj.
The president will be joined in India by multiple members of his cabinet, influential business leaders and a host of US lawmakers, including Nancy Pelosi, the minority leader of the US House of Representatives during the trip.
Air Force One, the presidential aircraft that will fly Obama to India, will have a brief refuelling halt over Ramstein in Germany and will touch down in Delhi at 10 am on Sunday at Air Force Station, Palam.
On his arrival, Obama will be accorded a ceremonial welcome at about 12 noon at the majestic Rashtrapati Bhawan by President Pranab Mukherjee and Prime Minister Narendra Modi.
Thereafter, he will pay homage to Mahatma Gandhi at the Rajghat at 12.40 pm and participate in a tree planting event there.
Obama will then join Modi for a restricted working lunch at the Hyderabad House and participate in a "walk and talk" with the Indian Prime Minister there at about 2.45 p.m, the White House said.
The two leaders will then have an expanded delegation level meeting, which is expected to last for about an hour. They will jointly address the press at about 4.10 pm. Later in the evening, Obama is scheduled to meet embassy personnel and families at ITC Maurya Hotel at 7.35 pm.
He will then drive down to Rashtrapati Bhawan to attend the state dinner with President Pranab Mukherjee at 7.50 pm.
 On January 26, Obama will participate in the Republic Day celebration as the chief guest along with the First Lady. Later, the Obamas will attend a reception with Mukherjee atRashtrapati Bhawan.In the afternoon, Obama and Modi will participate in a CEO forum roundtable and deliver remarks at a US-India Business Summit.
On January 27 morning, the US President will give an address at Siri Fort Auditorium. The Obamas will leave for Agra to tour the Taj Mahal before their departure from New Delhi.