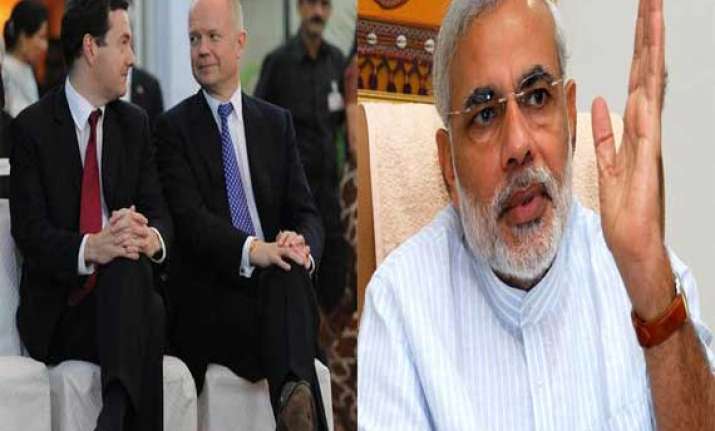 Mumbai:  Seeking to give a fresh thrust to bilateral trade and diplomatic ties with New Delhi under the new government, two of Britain's seniormost ministers today kicked off their India visit, underlining "good days are coming" for investments by the two nations in each other's economies.
Secretary of State for Foreign Affairs William Hague and Chancellor of the Exchequer George Osbourne, heading the largest business and ministerial delegation ever, arrived in Mumbai, their first port of call, during a two-day visit to the country. 
They will have a meeting with Prime Minister Narendra Modi and their counterparts in Delhi tomorrow.
Addressing the media, Osborne recalled Modi's victory tweet 'Achche din aane wale hain' and said, "Good days are coming for Indo-British relationship."
"Good days are coming for the investment we make in each other's economies... for the trade between our two trading nations... for the financial partnership we can forge to build, literally, the infrastructure of the future," the Chancellor of the Exchequer said.
Osborne said he is leading the largest-ever business delegation as Britain wants to strengthen further the diplomatic ties and develop partnership in the economic sphere, especially in infrastructural and financial services.  
He said global sentiment has turned massively positive for India in the past seven weeks post Modi's swearing-in.
"It is a measure of the ambition and drive and pace of the new government of Prime Minister Modi that this complete turnaround in sentiment about the Indian economy has been achieved in just seven short weeks since that stunning election victory," Osborne said.