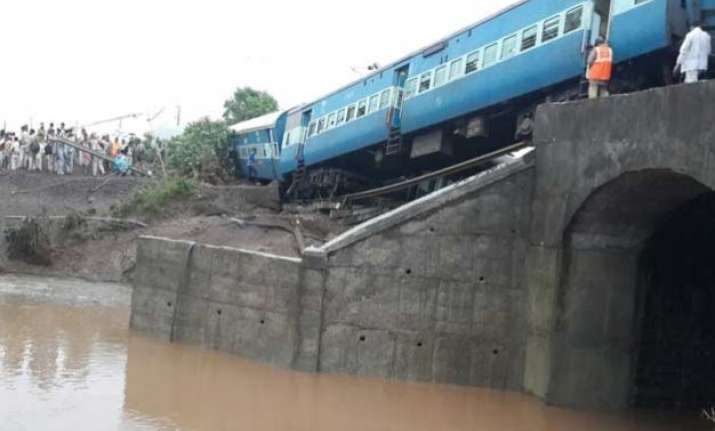 Harda(MP) : At least 29 passengers, including 11 women and five children, were killed and 25 others injured when several coaches of two trains, one heading to Mumbai and another to Varanasi, derailed over a railway bridge in Harda district and plunged into the swollen Machak river.
Seven coaches of Kamayani Express, on way from Mumbai to Varanasi and three coaches and the engine of the Jabalpur-Mumbai Janata Express, which was travelling in the opposite direction derailed 30kms from Harda after the tracks, got submerged in the water.  
* Helpline numbers provided by Western Central Railway:
Bhopal:  0755 4001609
Harda:  9752460088
Bina:  07580 222052
Itarsi:  07572 241920
 Over 250 passengers have been rescued, a railway official said.
The Railway Ministry has ordered an inquiry into the twin train derailments and compensation for the families of the victims.
"Twenty nine bodies, including those of 13 men, 11 women and five children, have been recovered so far from the mishap site between Khirkiya and Harda, about 160 kms from Bhopal," Madhya Pradesh government spokesman Anupam Rajan told PTI, adding that the toll could further go up.
However, Divisional Railway Manager (DRM) Bhopal, Alok Kumar said, "11 passengers of Janata Express and one from Kamayani Express were found dead. About rest, we are not sure whether they were villagers or some other persons." ? ?
Though the state government said that 21 coaches of the two trains derailed, the DRM said seven bogies of the Janata Express plus engine and 10 of Kamayani Express derailed.
According to Central Railway PRO Piyush Mathur, seven?coaches of Kamayani Express, heading from Mumbai to Varanasi, and three bogies plus the engine?of the Rajendra Nagar-Mumbai Janata Express derailed at 11 PM last night.
"Nearly 25 passengers suffered injuries," he said.
Making a suo motu statement on the incident in Parliament, Railway Minister Suresh Prabhu said track washout due to a swollen Machak river led to the derailment of the two trains.
Commissioner Railway Safety (central zone) will conduct an inquiry into the accidents, Railway Spokesperson Anil Saxena said.
He said though prime facie flash floods led to the derailment of the two trains, the real cause will be ascertained after submission of the inquiry report.
The official said just eight minutes before the accident, two trains had crossed that section and their drivers did not detect any problem.
Prime Minister Narendra Modi expressed grief over the loss of lives in the twin train accidents and said authorities are doing everything possible on the ground..
Main Points:
* Rail minister and MoS rail are on their way to visit accident site.
* Death toll reaches 30
* It appears that flash floods caused the crash. The tracks were above soft mud: Anuradha Shankar, ADG Railways
* Passenger says train got stuck in mud
* Whatever help needs to be given we will give it: Railway Minister Suresh Prabhu
* I have been keeping an eye on the situation, we are rushing to MP to monitor the scene: Railway Minister Suresh Prabhu in LS
*  Apart from Railways announcement,  MP govt will provide Rs 2 lakh to the family of deceased, Rs 50,000 to critically injured and Rs 10,000 to people with minor injuries
*  Very sad incident,our office is gathering complete information frm Railway Board: Nitish Kumar
*  Very sad incident, there must be a high level thorough investigation into the matter: Mayawati
* Congress President.Sonia Gandhi has expressed shock and grief over the unfortunate incident of twin rail accidents killing & injuring people.Extending condolences to family of deceased,Gandhi hoped adequate relief&rescue ws being undertaken by authorities concerned
* Railway should take precautions during rains,winters or flood situation,why was this forsightedness not shown by Railway Minister : Congress leader Mallikarjun Kharge
* Death toll of twin train derailment in MP reaches 28.
Also Read: Timeline: Major train accidents in India since 2000
* Madhya Pradesh CM Shivraj Singh Chouhan to visit the spot of twin train derailment incident, today.
* We are closely working together with Railway Admin in relief & rescue op. of Harda train accident. DM along with Sr. Officers at site: MP CM
* We're providing all possible Medical assistance at site. Medical teams from various cities have been rushed in to assist in R&R ops: MP CM
* Death toll rises to 27 including 11 females, 11 males & 5 children.
* Heartfelt condolences to the families of those who died in train accident near Harda in MP. NDRF teams have been rushed to spot: Rajnath Singh
*  Ex-gratia of Rs 25,000 to those with minor injuries: Railway ministry
* Railways announce a compensation of Rs 2 lakh to the next of the kin of the deceased. Rs 50,000 to grievously injured: PTI
* 10 minutes back at this spot train movement was normal,there was no problem, it appears suddenly flash flood came in 10 mins time Which resulted in disturbance of track&consequently the derailment of two trains:: AK Mittal
* Kamayani express frm Mumbai to Varanasi,Janata express twrds Mumbai ws passing 20km frm Harda near a bridge:AK Mittal,Railway Board Chairman
* Seven coaches of Kamyani Express that have derailed are S4, S5, S6, S7, S8, S9, S10, S11 and three coaches of Janta express that went off track are  S1, S2, ,S3, S4 including Engine.
* latest images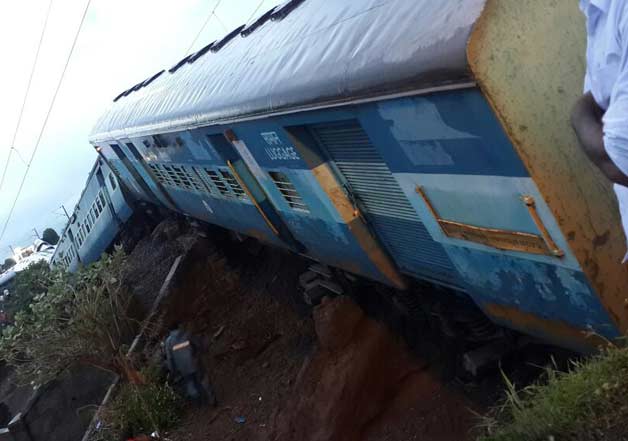 * Commissioner Railway Safety (Central Circle) will probe the incident: Anil Saxena, Railway PRO
* Rescue & relief are almost complete, still a team conducting search operation to see if anyone is still trapped: Anil Saxena (Railway PRO)
* Death toll reaches 24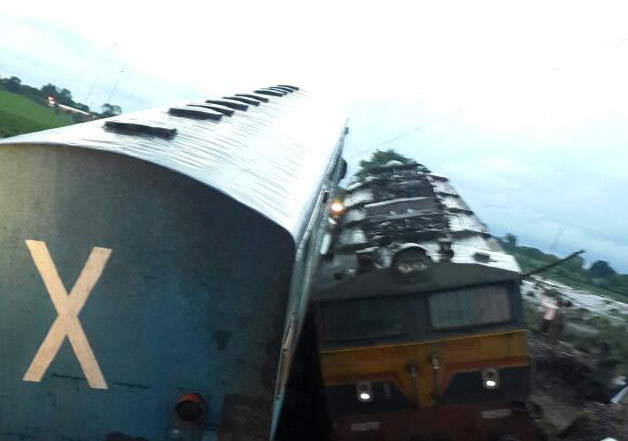 * Prime Minister Narendra Modi expresses his condolences for the victims of the mishap
"The two train accidents in Madhya Pradesh are deeply distressing. Deeply pained over the loss of lives. Condolences to families of deceased." he said in a tweet.
"My prayers with the injured. Authorities are doing everything possible on the ground. The situation is being monitored very closel,." he added
* A flash flood like situation or an overflowing dam might have been the cause of excessive water on the tracks, say railway officials.
*  Routes of 45 trains have been diverted and two trains have also left for rescue operantions.
Also Read: Train derails in Madhya Pradesh, casualties feared
*  Contrary to initial reports Railways PRO ADG Anil Saxena told India TV that the trains did not fall into rivers from a bridge. Accident happened on the damaged culvert, the tracks got submerge in the water causing the accident. Several bogies and engines went off track and got submerged into water. 70 member NDRF team is involved in rescue operations. The unaffected coaches have been taken out and moved to Itarsi.
* Divisional Commercial Railway Manager (DCRM) Brajendra Kumar said that many passengers were rescued from the stranded trains. A passenger of Kamayni Express, Akhilesh Pratap Singh told PTI that he along with over 150 passengers, travelling in the general class coach, were stranded on a hilltop to save themselve.
* "Rushing emergency medical & other relief personnel to spot. darkness,water creating hurdles but ordered all possible help. Trying our best (sic), " Railway Minister Suresh Prabhu posted on Twitter.
* "Rail Admn & MP govt working together to rescue passengers of Kamyani express accident.Directed GM, DRM,RPF medical staff to rush," he added.
*  The accident relief train has reached the spot and several passengers have been brought to a nearby station.
* Kamayani Express derailed near Kudawa railway station, 30kms from Harda in Madhya Pradesh, on Tuesday late night, according to reports.