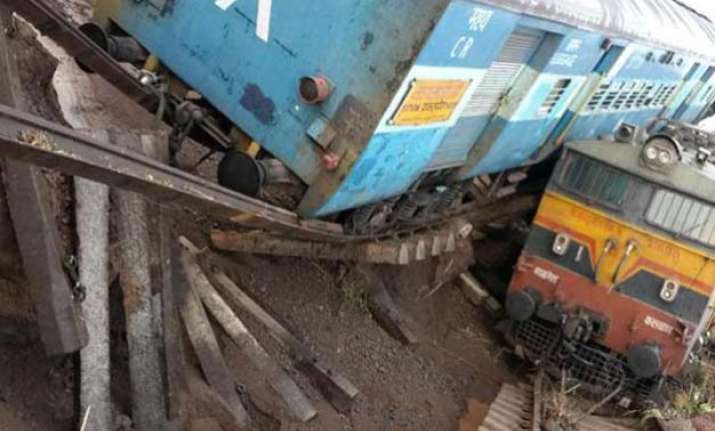 Bhopal: The survivors of unfortunate Harda twin train mishap of Tuesday night shared their horrifying accounts, which will haunt them for the rest of their lives.
A three year old girl, Gudiya was rescued who saw her grandmother being washed away. "Even after the girl's parents came to receive her she was unwilling to leave me." Gudiya's rescuer told Times of India
"Just 20 feet away from his coach, he saw two passengers fleeing from the wreckage only to get trapped in high-voltage overhead wires which snapped and fell on the tracks," Ganesh Wadle, a resident of Bhopal told the daily.
"Within minutes, their bodies were tossed up in a ball of fire and turned into ashes," recounted Wadle. "But those inside were safe. They cringed to touch anything metallic. I looked out of the window and continued to witness serial explosions lighting up the sky," he added.
Recounting the horror, Arun Pandey, one of the passengers in S-4 of Kamayani express who cheated death on the fateful night,said,"When I saw coaches of my train plunging into water, I called my daughters and said this might be the last call as the train was sinking."
But some were not as lucky as Arun. "There was a seven-year-old kid with his parents near our seat playing all the while during the journey. The kid and his father drowned. His wife and daughter survived. I tried to stop them from getting on the roof through emergency window but they didn't listen," he said.
Ghanshyam Rajak, who was on a pilgrimage to Shirdi, made the last call to his brother, Manish, as he saw eleven members of his family sinking. He could not save them even as he stood on a high ground and witnessed their hands flailing before slipping into the swollen Machak river. "A little after midnight, my cousin Ghanshyam, the lone survivor, called up and broke the news about the tragedy. Ghanshyam told me water entered their coach and there was hardly a chance to survive," Manish said.
At least 29 passengers, including 11 women and five children, were killed and 25 others injured when several coaches of two trains, one heading to Mumbai and another to Varanasi, derailed over a railway bridge in Harda district and plunged into the swollen Machak river on Tuesday night.