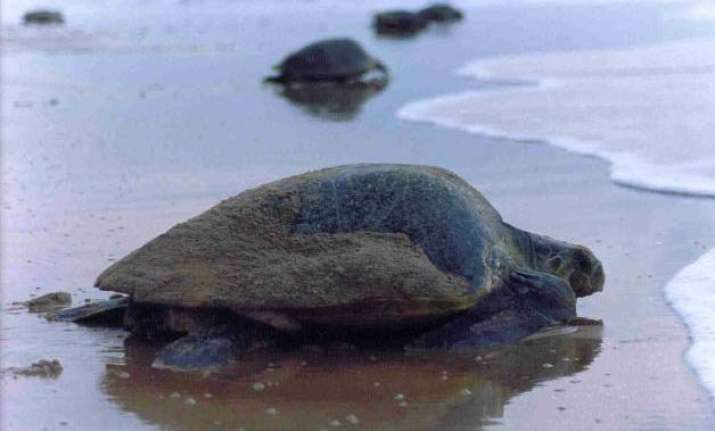 Panaji: Turtle nesting sites on the shorelines, mangroves in the inland waters and coral reefs in the sea are identified as highly vulnerable groups in the event of oil spill off the Goa coast, according to experts.
"Many of Goa's diverse and ecologically important coastlines, including the inland riverine systems, are home to diverse and unique flora and fauna. Oil spills cause disruption and devastation of migratory pathways, degradation of important animals and plant habitat," stated the Goa State Oil Spill Disaster Contingency Plan prepared by the State Pollution Control Board (GPCB).
The two-volume report, released yesterday by Defence Minister Manohar Parrikar here, has identified and mapped such high-risk areas in the coastal state that could bear the brunt in case of disaster.
It has also proposed a protocol cum action plan for various agencies, including the Indian Coast Guard and National Institute of Oceanography, to react to the emergency situation.
The report has warned that a major oil spill can environmentally impact Dr Salim Ali Bird Sanctuary at the western tip of the Island of Chorao near Panaji.
This sanctuary is the only representative of the mangrove eco-system in Goa and functions as a protective habitat for typical mangrove avifauna and for migratory birds, it said, adding that coral reefs found near St. George island at Vasco town have also been identified as a risk group in case of oil spill.
"Coral reefs are known for exceptionally diverse fauna and flora, complex food web and tropic organism," the report mentioned referring to experts.
The concerns are also raised on the turtle nesting grounds on the beaches in the case of oil spills.
"Goa has been a nesting site for the Olive Ridley Sea Turtles. The nesting (sites) are sporadic and occur generally through the coast of Goa. Out of the 105-km coastline of the state, only about six-km is left for the nesting which includes Morjim in north and Galgibag and Agonda in South Goa," the report mentioned.