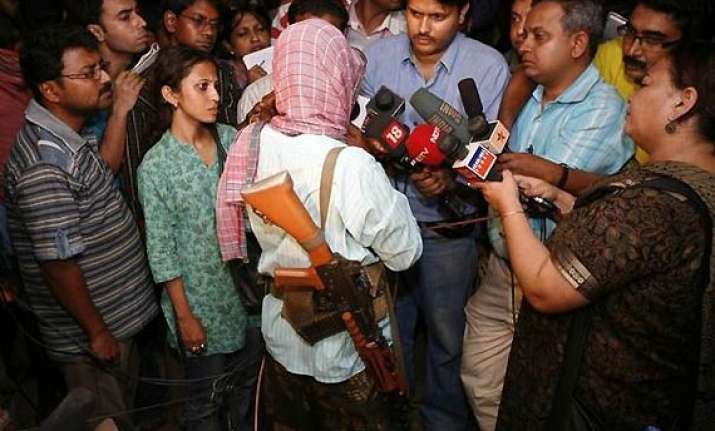 Kolkata, Nov 23: Foxing the joint forces for a second time in two years in junglemhal, top Maoist leader Koteswar Rao alias Kishenji and a close woman aide escaped from West Midnapore district in West Bengal into Jharkhand. 

"We had strong information that Kishenji and Suchitra, the wife of a slain state committee member were hiding in the jungles of Nalbani, Lalbani and Khusbani in Jhargram area of West Midnapore district," a top Counter Insurgency Force officer told PTI on condition of anonymity. 

The joint forces were alerted by the arrest of five Maoist 'village defence squad' members, who comprised the outermost ring of four rings usually assigned to protect a top leader such as Kishenji.

"When we broke the outermost ring Kishenji and Suchitra fled to Jharkhand before we could seal the area completely," the officer said.

"According to our information, for the last one year after the death of state committee member Sasadhar Mahato in March 2011, Kishenji has been staying with Suchitra," a senior CRPF officer told PTI.

This was for the second time Kishenji escaped after March 2010 when he was reportedly injured in a gunbattle with the joint forces at Lakhanpur jungle under Kotwali police station area in the same district.

Following his escape last year his frequent calls to the media and television channels stopped abruptly and it was rumoured that he had been killed, but the police later said he was alive.

The five arrested Maoists of the village defence squad included Prosenjit and Kanai involved in the attack on the Silda EFR camp where 24 personnel were gunned down by the Maoists on February 15 last year.

Meanwhile, arms and ammunition were seized during a raid by the joint forces on the Borihati forest in Jamboni police station area in which three suspected Maoists were detained, police sources said.

One rifle, 16 rounds of ammunition and detonators were seized in the raid, they said.

One 9 mm pistol was also found from the Laboni jungle in Belpahari police station area, they added.