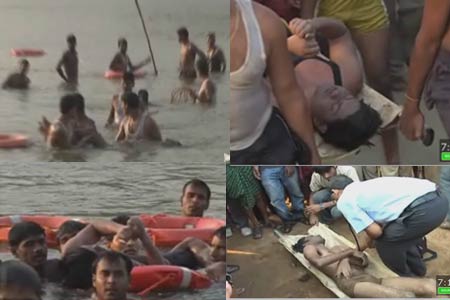 Bhubaneswar, Apr 12:    In a shocking incident,  three IIIT (Indian Institute of Information Technology) in Bhubaneswar died of drowning at the Jhumka Dam on Monday while taking bath in a group during a picnic trip, reports India TV reporter Prasanta Patnaik.

At least nine IIIT students had gone to Jhumka Dam. They took bath there during which five students went missing. Two students were rescued by their friends, while three others died of drowning.

Their dead bodies were recovered later. The deceased have been identified as Satyajit Mishra (Bhubaneswar), Aman Jain (Kesinga) and Chand Kishore Majhi (Balasore).
The dead bodies were sent for post-mortem. The Jhumka Dam is located near Deras in Chandaka at a distance of about 15 kms from Bhubaneswar.

Taking bath at the Jhumka Dam is prohibited. It is not known how the boys sneaked into and manged to take bath.The fire brigade and Orissa Disaster Rescue Force ( ODRAF ) team had to struggle for hours to fish out the bodies from the water.

According to a friend of te deceased the students while taking their baths could not know that the the level of water had gone suddenly sharp deep and they slipped into it, failing to come out.