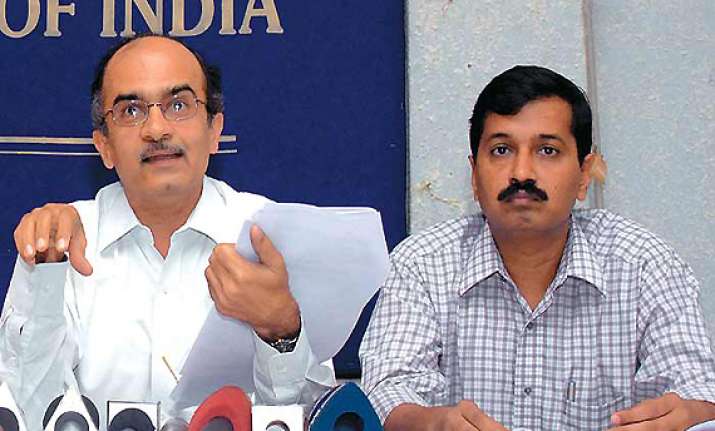 New Delhi, Jan 20: Team Anna today released a campaign pamphlet for the upcoming assembly polls in which it attacked the Congress accusing it of betraying the country on Lokpal issue even as the activists claimed that they will not seek votes for or against any single party. 

The four page pamphlet titled 'Your Vote can Change the History of India—Betrayal by Central Government on the Country' also targeted Rahul Gandhi, Mulayam Singh Yadav and Mayawati to question them on Lokpal and land acquisition. The BJP was also posed questions.

However, Team Anna members Arvind Kejriwal and Prashant Bhushan told a press conference that their campaign is not against or in favour of a party but on "important" issues like corruption, Lokpal and land acquisition.

When pointed out that the title of the pamphlet betrays the claims of not targeting a party, Kejriwal shot back, "Hasn't the government cheated the whole country?" Bhushan said they will raise the issues on Lokpal and what all parties did to the Lokpal Bill.

The pamphlet has listed "six betrayals" on the issue of Lokpal by central government while another page titled "Congress' strong Lokpal Bill" cites the "deficiencies" in the anti-corruption law.

Six questions were raised to all political parties which include whether they agree that the Lokpal Bill is weak, CBI should be independent of government control and whether they will oppose the bill in Parliament.

The parties were also asked about their stand on land acquisition bill. 

Making the campaign personal, Team Anna also sought answers from Rahul Gandhi on whether Congress will dare to bring a strong Lokpal bill on the lines of Lokayukta Act in BJP-ruled Uttarakhand.

Noting that Hazare went on hunger strike thrice last year for a strong Lokpal, Team Anna said, "but the Congress-led government in the Centre has betrayed Anna on every step. This betrayal is not against Anna but against the countrymen."

They also asked Rahul whether the Congress will take steps to loosen the iron grip of government over the CBI and whether he supports the efforts to save corrupt leaders in his party with the help of the investigating agency. 

"Is it that the ruling party misusing CBI against Mulayam Singh and Mayawati to garner numbers and remain in power? Does he support this?" Team Anna asked.

In their questions, they asked BJP whether it will bring a strong Lokayukta Bill in party-ruled states. "However, BJP does not fully support the law in Uttarakhand and what are your objections?" they said.

They also asked the main opposition party whether they will oppose the "weak" Lokpal Bill brought by the Centre and will they favour people's participation in law-making along with Parliamentarians.

Tey sought to pose some uncomfortable questions to Mulayam Singh and Mayawati asking them why they preferred to walk out of Lok Sabha during Lokpal Bill voting, thus helping the Congress.

"After elections, will you support Congress? Will you enter into an agreement that CBI cases against you will be withdrawn if you give support?" Team Anna asked. 

Asked about Hazare joining the campaign, Kejriwal said he may do so if his health permits. He may also come to Delhi to participate in the 'Save Republic Campaign' on January 26. 

Team Anna's campaign will start tomorrow from Uttarakhand and will be spread to Punjab, Uttar Pradesh and Goa till early March.

Team Anna also questioned the decision of the returning officer of Haridwar not to permit them to hold a meeting in a big ground and instead asking them to conduct their programme in a banquet hall.

Bhushan said parties were not raising serious issues like land acquisition.

"Farmers' land is being acquired everywhere and there are a lot of discussions during elections. But after elections everybody forgets about it," he said.

"What we need is not to elect on the basis of personality but on policy," he said.

Asked whether their decision not to target a single party was an after-thought, Kejriwal said they had decided to target Congress earlier but later after discussions they decided against it.

On whether campaigning against Hisar elections was a wrong decision, he said, "It was not a wrong decision. At that time, that decision appeared right. Now, at this moment we feel right that we should not campaign against any party."

Bhushan sought it was wrong to say they were attacking Congress and noted that he had filed cases in Supreme Court against the mining lobby of Bellary brothers, who were ministers in Karnataka.

Also, he said that it was then Lokayukta Santosh Hegde who submitted a report against B S Yeddyurappa. "We have also condemned the Gujarat government's stand on Lokayukta," he said.

Asked which party's victory will it consider as its own, Kejriwal said, "people's victory. If we are able to change the discourse from caste and religion to land acquisition, Lokpal and people's participation in law making, that will be our victory."

Team Anna also took exception to some candidates using Hazare's photos in their election campaign saying the activist had not given permission to anyone in this connection.