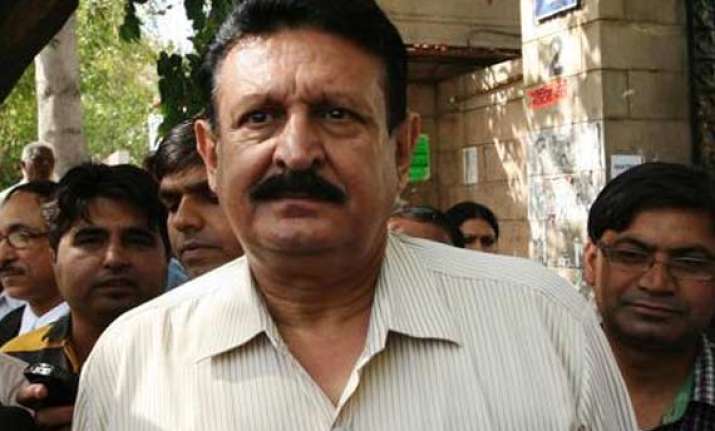 New Delhi: Taking cognizance of the Central Bureau of Investigation (CBI)'s chargesheet, a special court on Thursday summoned Lt Gen (retd) Tejinder Singh on September 1 for allegedly offering Rs 14 crore bribe to then Army Chief Gen V K Singh for clearing file pertaining to procurement of 1,676 heavy mobility Tatra vehicles.
Special CBI judge Madhu Jain took cognizance of the chargesheet and relied upon statements of former Defence Minister AK Antony, VK Singh and other witnesses whose testimonies were recorded by the agency during the probe.
"I have gone through chargesheet and statements of Gen (retd) VK Singh, Major Gen JP Singh the then military assistant of the COAS, AK Antony, the then Defence Minister to and other witnesses, published Rajya Sabha debate dated March 27, 2012 in which Antony has stated in the Upper House that Gen VK Singh had informed him about the bribe offered by Lt Gen (retd) Tejinder Singh and other relevant documents," the judge said, while summoning Tejinder Singh as an accused on September 1.
"On the basis of material on record, there is sufficient ground to take cognizance of offence under section 12 (abetment of offence) of Prevention of Corruption Act... though offence under section 7 (public servant taking gratification other than legal remuneration in respect of an official act) of PC Act was not committed in consequence of the said abetment and I accordingly take cognizance under section 12 of PC Act," the judge said.
During the arguments on consideration of the chargesheet, senior public prosecutor V K Sharma had told the court that there was sufficient evidence to take cognizance and summoned the accused.
The CBI in its chargesheet had alleged that in the month of August-September 2010, the file pertaining to procurement of 1,676 Tatra vehicles was pending before VK Singh, who is now a Minister of State of External Affairs and Minister of State in-charge of Department of Northeast Region.
The then Chief of Army Staff (COAS) was not convinced with the total projected requirement of the vehicles and it appeared to him that the requirement has been inflated, the agency had said, adding VK Singh had sought fresh opinion on the issue from different quarters.
In its chargesheet, the CBI alleged that Tejinder Singh met VK Singh in his office in South Block on September 22, 2010, and during the meeting, he offered a bribe of Rs 14 crore to VK Singh for clearing the file of Tatra vehicles by first week of October.
VK Singh got infuriated and asked Tejinder Singh to immediately leave his office and he, thereafter, intimated AK Antony about the whole incident of bribe being offered to him, the CBI had said.
"AK Antony, Raksha Mantri, in his statement in the Parliament on March 27, 2012 and the one recorded under section 161 CrPC during investigation, has confirmed having been informed by Gen VK Singh about such offer of bribe made to him about one to one-and-a-half-year ago by Lt Gen (retd.) Tejinder Singh," the CBI had claimed in its chargesheet.
"During investigation AK Antony admitted having been informed by Gen VK Singh with respect to offer of bribe by Lt Gen (retd.) Tejinder Singh for clearing the Tatra trucks purchase file," the CBI had said in its nine-page chargesheet.
The CBI has arrayed 20 prosecution witnesses, including AK Antony, TKA Nair, the then advisor to the Prime Minister and VK Singh and the agency had filed a set of 18 documents along with the chargesheet.
The CBI has said in the charge sheet that according to VK Singh, when he had reported the incident about alleged bribe offer by Tejinder Singh, the then Defence Minister had 'expressed shock' over it.
It had alleged that during the probe, the former Army chief had claimed to have recorded the alleged conversation between him and Tejinder Singh on September 22, 2010 but 'the same was not provided by him (VK Singh) to the investigating agency despite efforts'.