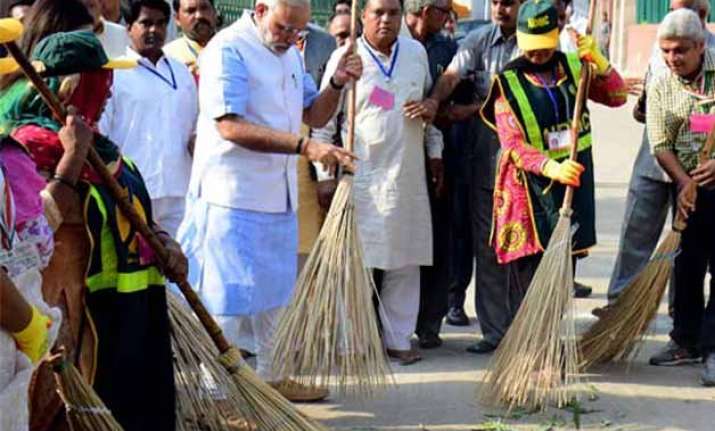 New Delhi: Exactly a year ago Prime Minister Narendra Modi wielded a broom and launched the country's biggest-ever cleanliness drive 'Swachh Bharat Abhiyaan' on the birth anniversary of Mahatma Gandhi,.
The Prime Minister kicked off  the mission by sweeping a pavement in New Delhi's Valmiki Basti, a colony of sanitation workers as a mark of respect for the residents.
Following that, a lot of photo-ops popped up on social media and newspapers. Politicians, Bolllywood starts, sportspersons and bureaucrats posed with brooms in their hand to spread awareness among the people about the cleanliness.
After a year, we take a look at the effects of the Clean India Mission and how the public in general looks at it.
India TV, using the social media platform, invited people to share their views and feedback on whether the much publicised drive has made any impact.
The overwhelming view is that though things have improved a little bit, a lot remains to be done on the cleanliness front because the onus lies more on the common man than the government.  
We asked people to respond to the following question: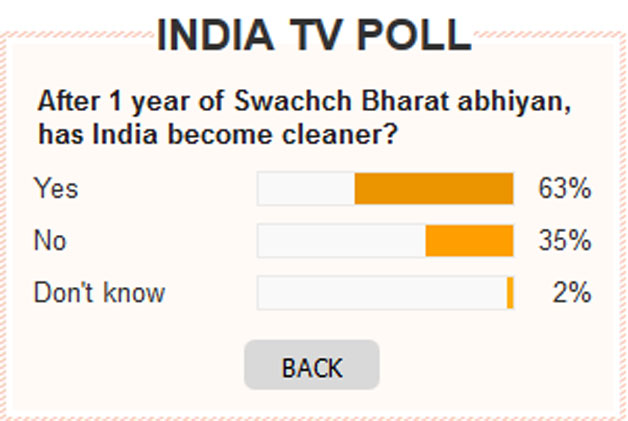 While some people answered positively and said that the mission has made considerable impact and brought cleanliness in the country, most of them disagreed. The people are, however, not blaming the Prime Minister but the public itself and the government departments for the mission's failure.
The major reason for the failure of the mission, according to the social media users, is the insensitivity of the public towards cleanliness. The people do not care about the cleanliness and must support the mission tooth and nail, suggest social media users.
Some even went to the extent of advocating the need for introducing law to punish people who spread litter and spit on the public places.
Some of them termed the mission as mere publicity stunt by the BJP-led NDA government.
Here are some of the comments gathered from India TV's Facebook poll on the first anniversary of Swachh Bharat Mission.
Masoom Ali Its our prime responsibility not prime minister responsibility to clean India green India.
Mrinal Dey Our nation is like that the peoples spit everywhere except their own home,we have to write silence please in hospitals,we have to write please purchase ticket before start up of rail journey,we have write dont uranite here.we have to write dont threw the emply packets etc on roads,we have to write in school areas to drive slow is it not a matter of shame how we people expacts some one like Modi will make us human when we did not have any quality to be called human only humans and persons who love this nation can make our country clean.We can only make our country clean if we want it since 99% of people oppose cleaning then how can we make our country clean.Cleanliness will be possible if only 80% people wants to live in clean India because if 80% is actively participate in cleaning rest 20% will too start cleaning but the problem is Congress boss Sh.Rahul Gahadhi did not wants clean India he already criticized the same many times.Most of opposition parties are not supporting cleanliness drive.
Chaitanya Vij Prime minister Narendra Modi given credit but people of India is not supporting clean India movement
Shekhar Chopra South extn.mkt delhi .not even a single dustbin instaled yet in a year..i think sansad is menakshi lekhi who belongs to this erya.nd i think she should have more responisble to make india clean as this is her party dream project.so how come it can possible or sucess when even these people cant install a dustbin in area.now plz don`t say m belons to any other party suporter .first of all bjp suporter i given vote to bjp both time in loksabha nd delhi election.but i am raising this point as a citizen of india ,its dsnt matter whether any one voted or not belongs to any party but it is the responsibilty of ruling party also.
Manu Kapoor Yes,little bit.
Gud work by modiji..
Ram Kinker Shukla Certainly my answer is no. Any abhiyan including the swachch Bharat abhiyan cannot be successful until it comes into habit of the people. The reasons are many.
1. All the Political Parties are against BJP and Modi.
2. Unhealthy relations between state and central Governments.
3. Politicians right from MPs till gram panchayat sadasya does not have attitude towards cleanliness.
Most importantly as an individual we are not sensitive about the cleanliness of our surroundings. We always protest good initiatives.
Sumit Sharma its nt abt abhiyan its abt mentality of people..people forget abhiyan after few dys....
Akhilesh Bhatnagar I won't criticize only Modi for this .. BJP, MPs, Ministry, and all chhitput so called netas (not only from BJP) all state govts are responsible for this failed campaign ... Ppl were just taking selfies with jhadu and sharing on FB.. It won't make change. I request to both the govts, please don't waste money and time for these kind of mission .. Rather make hardest rules to make India cleaner and greener ...
Twinkle Dutta Nyc effort by modi ji ,..... bt india failed....
Gurpreet Singh no. its only publicity stunt.
Pradeep Varma No, this is a publicity stunt, like clean Ganga, meant to pass the time and do lip service
Devendra Mishra Yes and there's awareness to clean India
Nitish Dadwal noo...not at all...we indians still dont care about it..its a team work not a one man work !!
Mukesh Sangra Yes,,,,little bit,,gud work by modi ji
Tarun Negi Bad habits die hard & to inculcate good habit to clean India will take time but it will . perceptions about cleanliness is changing my daughter insist us to keep rappers & other waste generated during travel to keep collected & only throw it in the dust bins... Jai Hind.
Mamoon Rasheed Prime Minister has given a call and initiated cleanliness drive. Now it is our responsibility to take forward and make environment clean. It should be a mass movement for making India clean.
Kailash Dash The only day in which we involve in housekeeping as required is OCT-2.How can only one day activity can clean India?