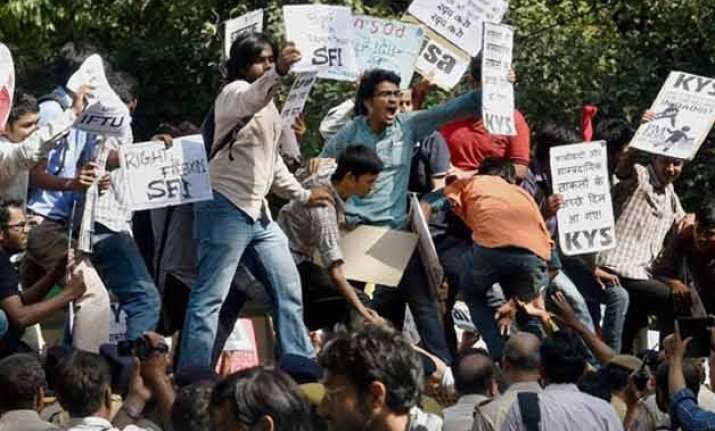 New Delhi: A large number of student activists from different outfits were detained on Sunday by the police while they were trying to take out a protest march to the Prime Minister's residence against the Dadri incident.
Nearly 350-400 students who were trying to take out a march from Mandi House area in New Delhi, have been detained by the police at Feroz Shah Road. The detained students have been taken to the Parliament Street Police Station, a senior police officer said.
The students from JNU, Delhi University, Jamia and other educational institutions in the city, affiliated to various outfits including All India Students Association (AISA) and Students Federation of India (SFI), had planned a protest march and demonstration at the Prime Minister's residence to register their protest over the lynching of 50-year-old Ikhlaq in Dadri town in Uttar Pradesh.
"We were stopped by police near Mandi House while we were taking out our protest march against politics of hate and Dadri lynching," AISA state executive member Shehla said.
"What has followed after Dadri incident is irresponsible and inflammatory statements by the ministers of the government which must be stopped," she said.
"Our protest is aimed at seeking justice for the victim of Dadri and unmasking of the mastermind behind the lynching and punishment for the perpetrators of the inhuman act," she added.
Akhlaq was beaten to death and his 22-year-old son Danish was critically injured in an attack by a mob on the night of September 28 following rumour that the family had consumed beef.