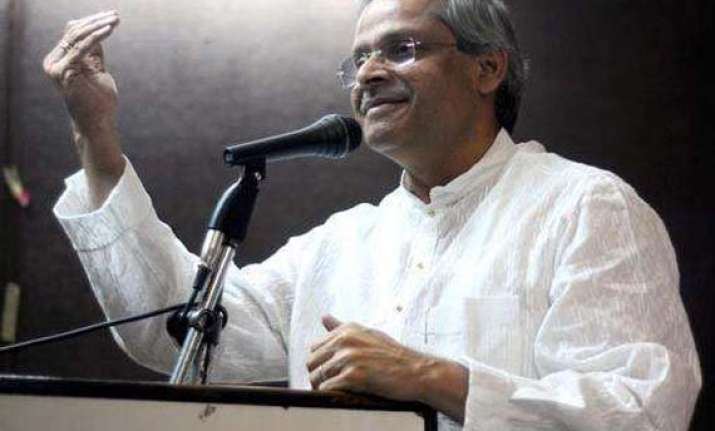 Hyderabad: A five-grid network, mission-mode administrative initiatives, new-age university and institutions and a 21st century capital city are among the ambitious plans laid out by the AP government in pursuance of turning Andhra Pradesh into a seamlessly smart state.  A slew of initiatives particularly in the energy, gas, farming and IT sectors have been taken up by the government in that direction.
"We are building a capital city. This is perhaps the first capital city which is conceived and being built in the 21st century. All other capitals belong to the 20th century.  Now, you have this buzzword today which is 'smart cities'.  
"We can show in our new capital, what a smart city ought to be. What could it be," Advisor (Communications) to the AP government, Parakala Prabhakar told PTI here.  
Maintaining that the state government is not limiting itself to smart cities, he said, the idea is to build or convert villages, universities, institutes of higher learning, R&D institutions in a 'smart' way.
"All this put together will come to smart governance.  This will aggregate into a smart Andhra Pradesh. Our target now in the next five years is to make Andhra Pradesh, a smart Andhra Pradesh," he said.
For the purpose, the government would put in place five grids - an optical fibre grid, a road grid, a gas grid, power grid and water grid.
The optical fibre grid takes optical fibre connectivity to all the households in every village and the road grid connects every village and the port to the hinterland.  Through the gas grid, the KG-basin and other gas resources would be brought to "every industry and every household for LPG, for CNG.
The state has already been sanctioned an LNG terminal," he said.  Under the power grid, the small number of habitations (predominantly tribal) in the remote areas of the state which do not have access to electricity would be electrified and the state is now part of the '24x7 power for all' initiative of the Centre.
Separate pipelines would be laid for industry, agriculture and domestic consumption as part of the water grid.
"These five grids are going to make our state a smart state. We are working towards smart Andhra Pradesh. We are not confining ourselves to just build a few and far between cities which are smart. It is going to be smartness seamlessly throughout the state. This is going to be our agenda for the next five years," Prabhakar said.
The state government would leverage funds from Union Government, international financial institutions, international lending agencies, the PPP route and also CSR funds for drinking water, education, skill upgrading and other areas, he said.
Prabhakar said state government has "collapsed the entire gamut of administrative initiatives into seven missions --- primary mission, industry mission, infrastructure mission, skill development mission, social sector mission, urban mission and services mission for implementation, meeting timelines and bringing in technical know-how and management bandwidth".
He cited example of Singapore providing a master plan for development of the AP's capital city to come up in the Vijayawada-Guntur region.
"We are talking about smart cities. We are talking about Digital India. We are talking about 'Make in India'. These are the things that are being spoken about by the Prime Minister.  "These things, implementation of which will have to happen in the states.
The Central government can only give a direction and also give some kind of innovative ideas. But, the territories are with the state governments," Prabhakar said.
Andhra Pradesh, he said, is keen on embracing the 'smart' practices as the government has begun the task of building the new state, including developing a capital city.  "It is now a new state.
We are making completely a new beginning. We are creating a new capital city. We are creating a lot of infrastructure in terms of educational institutions, research and development institutions and an agriculture university because we have lost a lot of these institutions because of the (state's) division.
All the institutions which were established in Hyderabad have remained with Telangana," he said.
Noting that the state faces a big challenge in terms of starting without institutions and a capital city, he said the situation, however, has thrown up an opportunity to build institutions and the capital city in the best possible way by learning from the experience world over.  "We don't even have a place to sit and deliberate for our legislators," he said.
Following bifurcation of Andhra Pradesh in June this year, Hyderabad is the common capital for both Telangana and new Andhra Pradesh for a period not exceeding 10 years, after which it would be part and parcel of Telangana.  
AP will have to develop its own capital during this 10-year period.
Citing an example, Prabhakar said a "new-age agriculture university" can be set up where there is an interface between farms in the villages and the university, which is not merely a scientist-driven institution.
"We have decided on our goals. By 2022, we want to be one of the three best-performing states in the country. But by 2029, we want to be the number one," he said.