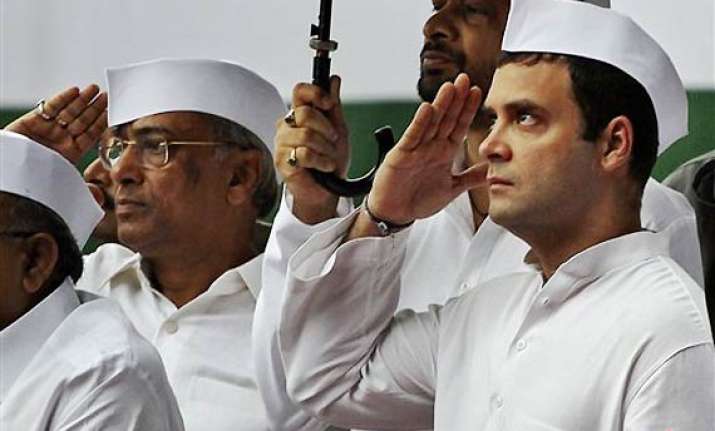 New Delhi, Aug 15: Congress President Sonia Gandhi, who underwent surgery in the U.S. recently for an unspecified ailment, is "much better", her son Rahul said on Monday.

Rahul Gandhi returned on Sunday evening after attending to his mother at a hospital in the US, details of which have been wrapped in secrecy.

"She is much better," Rahul Gandhi told reporters on Monday while attending the traditional flag-hoisting function at Congress Party headquarters.

The flaghoisiting was done by the seniormost Congressman Motilal Vora in the presence of Prime Minister Manmohan Singh.

Sonia Gandhi had left earlier this month for the U.S., where she underwent successful surgery for an undisclosed disease.

The Congress president had not attended meetings of the Congress Core Group as also that of the Parliamentary Strategy Committee as she had not been keeping well.

Sonia Gandhi had set up a four-member committee in her absence to run party affairs. The committee includes A K Antony, Rahul Gandhi, Ahmed Patel and Janardan Dwivedi

Meanwhile, Prime Minister Manmohan Singh, with Rahul Gandhi by his side, held confabulations with senior party leaders at the AICC headquarters in the backdrop of the political controversy surrounding developments over Anna Hazare's proposed fast.

The Prime Minister and Rahul Gandhi were huddled with senior party leaders including Pranab Mukherjee, Ambika Soni and Janardan Dwivedi at the 24, Akbar Road office of Congress President Sonia Gandhi after hoisting the national flag there.

It was Rahul's first public appearance since the Congress President went abroad for surgery a fortnight back. Rahul and his sister Priyanka were accompanying the Congress President during her treatment in the US.

The Congress General Secretary, who is in the four-member committee constituted by Sonia to look after party affairs in her absence, also had talks with many senior leaders and Union ministers present there.

Party leaders, however, remained tightlipped over the meeting or the talks.

"I have no knowledge," Soni said when asked whether senior leaders had any meeting with Rahul.

Party General Secretary Janardan Dwivedi also declined to answer queries as to why Rahul's meeting with the Prime Minister went on for such a long time.

"When senior leaders sit, it gets longer some times," was his refrain.

After Rahul's meeting with the Prime Minister, another meeting took place in Congress treasurer Motilal Vora's office in which Soni, Dwivedi and Sonia Gandhi's political secretary Ahmed Patel participated. But, there was no official word on what transpired.

Late in the afternoon, the Congress came forward with the view that it is not in favour of levelling personal allegations against any body.

On Sunday, party spokesperson Manish Tiwari had levelled allegation of corruption against Anna Hazare, while party general secretary Digvijay singh had levelled allegations against Kiran Bedi's and Arvind Kejriwal's NGOs.