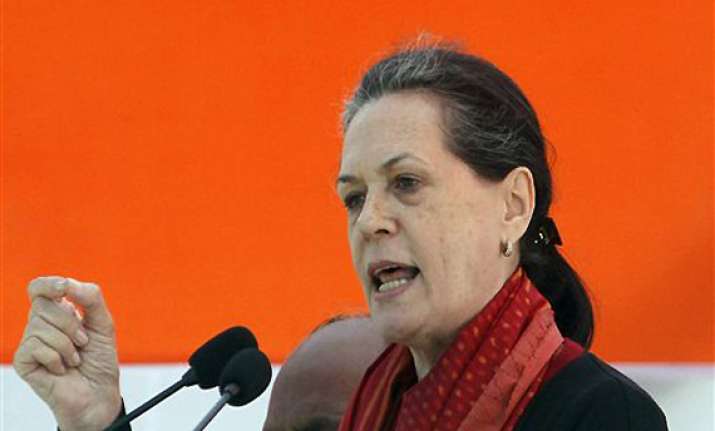 Unnao (UP), Feb 8: Congress President Sonia Gandhi today said that her party is contesting the Uttar Pradesh Assembly elections for forming a government and not for striking a coalition with any party.

"Congress is not contesting these elections to forge a coalition with any party but for forming its government", Gandhi said at an election meeting in Chamrauli area this afternoon.

"Congress would establish a relationship of trust with the people and would stand by them in the good and bad times", he said.

While stating that there was no difference between the BJP, BSP and Samajwadi Party, Gandhi said all these parties have entered into alliances with each other at different times and ruined the state by distributing chairs (posts) to serve their vested interests.

The Congress president lamented that for the past 20 to 22 years the governments taking over the reins had betrayed the people and instead of developing the state have dragged it behind.

"There had been the rule of either the criminals or corrupt", she said.

Referring to the various welfare schemes of the UPA government like the loan waiver for farmers and package for weavers, she said that had it not happened things would have been worse.

Recalling that the UPA-I had given MNREGS and gave Rs 20 thousand crores for it, Gandhi said that people of the state would have to take account of how much of it reached them and how much was looted by the corrupt.

The Congress president said that more than Rs one lakh crore have been given to the state for NRHM, JNNURM, Rajiv Gandhi rural electrification schemes and education for all among others.

Food security bill has been presented in the Parliament to ensure that no one goes hungry, she said.

Addressing the meeting, party general secretary Digvijay Singh said that the fight is between Cognress and SP in the UP polls and lashed out at Mulayam Singh Yadav for taking the support of fundamentalists, both muslim and hindu, at different points of time.

"Yadav got Kalyan Singh who has been held guilty by the Supreme Court on his cycle and sent Sakhsi Maharaj, accused of demolishing Babri Mosque to the Rajya Sabha", he said adding that now he has taking Imam Bukhari along with him.

Singh exhorted the people to make a "mazboot government and not a majboor (helpless) one and said that like they changed the govenrment in 207 they should do the same in 2012. He said that BSP was out of the race.