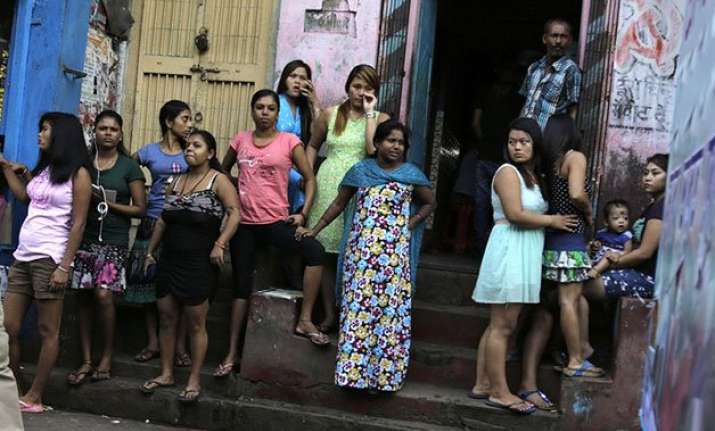 Kolkata: The profession of sex workers have been in our society, and fittingly so, from donkey's years. Seen as the 'oldest profession' this trade has taken the lives of many women while at the same time given them a living.
 
A profession which has pushed the women to breathe in a clique and been kept at an arm's length is now moving out of the dark woods to enter a career that 'conforms' to the societal norms.
 
Sonagachi, translated as Golden Tree, is a district in Kolkata, which might be widely only known as Asia's largest red light area.
 
However, it is the sex workers of Sonagachi who are all set to start a new phase aimed at learning acting, dancing and singing to eventually build a 'respectable' career in films and television soaps.  
Several girls who were rescued by NGOs after being forced into flesh trade, sex workers who want to leave the profession and children of sex workers are now undergoing a workshop training programme where they are being trained by
professionals in the ABC of acting.
The project christened 'Muktir Alo' (Light of Freedom), a pet project of West Bengal Chief Minister Mamata Banerjee, is aimed at bringing back the sex workers and their children to the mainstream.
"This is a second phase of the rehabilitation programme for the sex workers and their family members and those girls who have been rescued from the flesh trade. In this project we aim to train them in dancing/ acting and singing, so that they can get an opportunity in movies and serials," state women development and social empowerment minister Sashi Panja told PTI.
 
Last week in a report it was disclosed that India has nearly 9 lakh sex workers with almost 61,000 of them being in New Delhi and Andhra Pradesh with the maximum of 1.56 lakh practicing the profession.
However, in response to a RTI filed, the health and family ministry clarified that the figures were estimated by a mapping study conducted in 2009 in which about 19 percent sex workers were not registered.
Earlier the West Bengal government had brought in various rehabilitation schemes such as vocational training, workshops on sewing, weaving. But those projects couldn't gain much popularity as they were not financially lucrative.
 
Panja said that her department and coordinators of the project have already spoken to several film and serial producers and directors in order to provide the sex workers who are being trained in acting, to get their first break.
Apart from acting lessons, the girls are also being given classes in spoken English.
With PTI Inputs