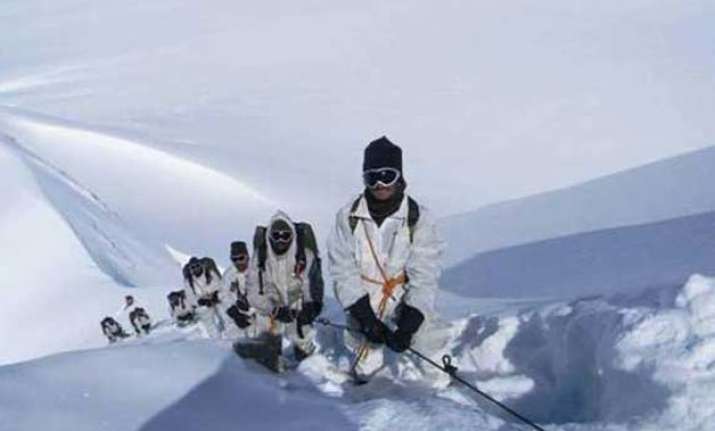 Jammu: Lance Naik Hanumanthappa Koppad, who is fighting for his life at Delhi's R R hospital after miraculously surviving six days buried under snow at the Siachen glacier, chose difficult areas over peace postings and fought for 10 years in difficult conditions for the nation.
An air pocket is what is believed to have helped Hanamanthappa survive after staying buried under 25 feet of snow for six days after an avalanche hit his post at an altitude of 19,600 feet close to the Line of Control (LoC) with Pakistan. He was miraculously rescued by the army two days ago. The temperature at that altitude was minus 45 degrees Celsius.
"The brave soldier displayed a high degree of initiative and has served 10 years in difficult and challenging areas out of 13 years of total service," a senior army officer said.
"The 33-year-old serving soldier, who was enrolled in 19th Battalion of the Madras Regiment on October 25, 2002, is highly motivated and physically fit... He opted for challenging terrains from the beginning," the officer said talking about Hanamanthappa, who hails from Karnataka.
"The soldier has served in Mahore (J&K) from 2003 to 2006 where he was actively involved in counter-insurgency operations. He again volunteered to serve with 54 Rashtriya Rifles (Madras) in the state from 2008 to 2010 where he displayed indomitable courage and gallantry in fighting terrorism during his tenure," the officer added.
Koppad's condition, however, remains critical, with evidence of oxygen deprivation to the brain on CT scan. The doctors have also found evidence of pneumonia in both lungs.
"His multi-organ dysfunction state also continues unabated. His condition has deteriorated despite aggressive therapy and supportive care," a medical bulletin said.
On Tuesday, he was flown on a helicopter to the Siachen base camp and then to Thoise air base. He was later transferred to Delhi by an IAF plane.
Meanwhile, the family members Koppad flew to New Delhi on Tuesday night from Panaji to be with him as he battles for life in RR hospital here. News of Koppad miraculously being alive six days after he was buried in a Siachen glacier rejoiced his family, which almost gave up hopes of seeing him again.
Nine of his other colleagues lost their lives in the avalanche.
(With inputs from PTI)