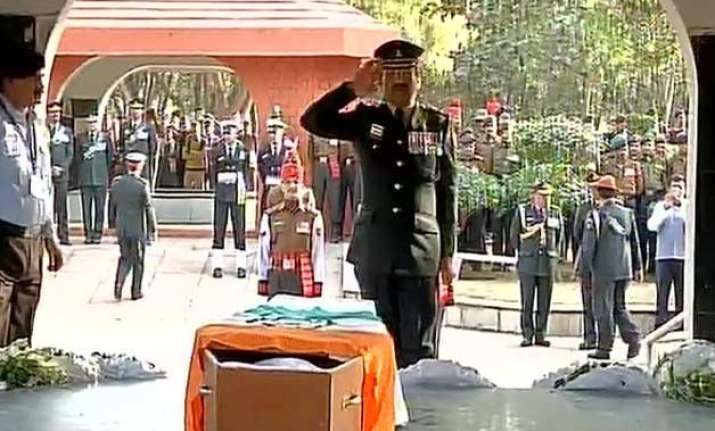 New Delhi: Lance Naik Hanumanthappa Koppad, who was battling for life after miraculously surviving the avalanche in the Siachen glacier, passed away at RR Hospital today.
Doctors in the morning said that the soldier continued to remain extremely critical with worsening multiple-organ dysfunctions. His pneumonia had worsened and the blood clotting disorder showed no sign of reversal despite blood component support.
He was kept on maximal life support with aggressive ventilation and dialysis, doctors said.
Having buried under 35 ft of snow for 6 days, Hanumanthappa, who breathed his last at 11:45 am, has left the entire nation with moist eyes.
PM Modi paid homage to the dead army soldier with his Tweet that read, "He leaves us sad and devastated. RIP Lance Naik Hanumanthappa. The soldier in you remains immortal. Proud that martyrs like you served India."
"His extraordinary spirit and tenacity, till the very end, is an inspiration for all. My thoughts & prayers are with his bereaved family," tweeted Rahul Gandhi's office.
Bihar CM Nitish Kumar also expressed his sadness on the micro-blogging website, "Deeply saddened by the passing away of Siachen braveheart Lance Naik Hanumanthappa. Condolences to his family and loved ones."
"#Hanumanthappa fought valiantly on field ,bellow piles of snow,in hospital,till he breathed his last,Salutes to this Braveheart.We bow!" said Suresh Prabhu in his tribute on Twitter.
"I join millions of countrymen to extend my condolences to braveheart Lance Naik Hanumanthappa. Nation will never forget his sacrifice," wrote BJP President Amit Shah.
"Bharat mata ke veer saput Lance Naik Hanumanthappa ko meri bhavpurna shraddhanjali," said Lata Mangeshkar in her tweet.
Army Chief General Dalbir Singh also offered his condolences over passing away of Lance Naik Hanumanthappa. He said "Soldier in him will continue to inspire generations."
Doctors who treated the soldier included top critical care specialists, head of the department of medicine, senior nephrologists and neurologists from the army hospital as well as the All India Institute of Medical Sciences.
Lance Naik and the other soldiers were hit by the avalanche at an altitude of around 20,500 feet. He was found miraculously alive just when the rescuers were beginning to lose hope. The soldier was found conscious but drowsy and disoriented. He was also severely dehydrated and in shock. He had pneumonia and was suffering from liver and kidney dysfunction. But there was no cold exposure related frost bite or bone injuries.
Prime Minister Narendra Modi went to the hospital after he was brought to Delhi on Tuesday. So did Defence Minister Manohar Parrikar.
Koppad had served in difficult and challenging areas for 10 out of 13 years of his total service. His postings included Mahore in Jammu and Kashmir from 2003 to 2006, where he was actively involved in counter-insurgency operations.
He again volunteered to serve with the 54 Rashtriya Rifles (Madras) in Jammu and Kashmir from 2008 to 2010, and later in the northeast from 2010 to 2012 where he took part in operations against the NDFB and ULFA. He was serving in the high-altitude areas of Siachen glacier from August 2015.
Watch video: