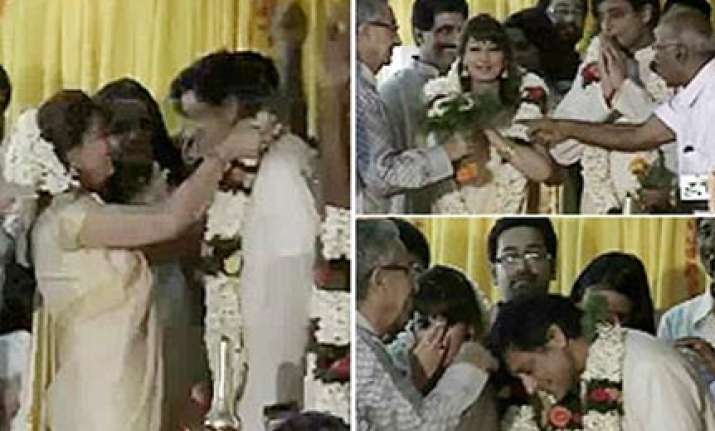 Palakkad (Ker): In a typical Malayali wedding, former Union Minister Shashi Tharoor on Sunday tied nuptial knots with Sunanda Pushkar at the ancestral home of the bridegroom at Elavanchery village near here .
Tharoor, a former UN under secretary general and now a member of Indian parliament, tied the 'thali', symbolising the marital bond as per the Hindu custom, amid accompaniment of percussion and windpipe orchestra'nadaswaram' at the auspicious moment shortly before 8.30.  
While Throor was clad in traditional Malayali atire of Kurtha and mundu, Sunanda, who hails from Kashmir, turned up with jerried off-white 'veshti-mundu set',like any Malayali bride would have preferred  on her wedding.   Before the wedding ceremony, the would-be couple sought the blessings of gods and elders of the family, who included Tharoor's 94-year-old maternal grandmother Jayasankari Amma. 
The tying of 'tali' was followed by exchange of floral garlands and handing over the 'pudava', a piece of new ccloth to the bride by the bridegroom, a long-followed tradition of of matrilineal Nair families of Kerala.  
The ceremonies took place before a lighted brass metal lam 'nilavilakku' with a 'para' filled with paddy and coconut shoots, symbolising plenty and prosperity.  The invitation to the wedding on the eve of 'Thiruvonam'  was limited to close relatives, friends and well-wishers. But, a large number of mediapersons gathered to cover the occasion.  
The party from the bride's side included Sunanda's father Col Pushkarnath Das. Congress leader Manisankar Aiyar was the only senior politician present at the marriage  Tharoor's mother Liliy Tharoor, sons by his first marriage Eshan and Kanishk and sisters Sobha and Smitha were present.
The wedding  was a low-key affair, with only about 100 close relatives and friends attending the marriage. The premises of his 200-year-old ancestral house at Elavanchery did not look like a marriage venue of two well known personalities. 
54-year-old Tharoor, a former UN Under Secretary General was clad in traditional Malayali attire of kurta and 'mundu', 48-year-old Sunanda, who hails from Kashmir, turned up in an off-white 'veshti-mundu set' like any Malayali bride would have preferred on her wedding. 
About 100 close relatives, including 20 from Pushkar's side, attended the marriage, with women outnumbering men. There were about 50 mediapersons, mostly TV channels, who were accommodated in a separate enclosure. Two channels telecast the marriage ceremony live. 
However nobody was sure whether the media was invited for the function. 
Nearly 25 police personnel stood guard outside the house and marriage pandal, while nearly 10 to 15 percussion and windpipe orchestra 'nadaswaram' members played the instrument at the auspicious time at the marriage this morning. PTI