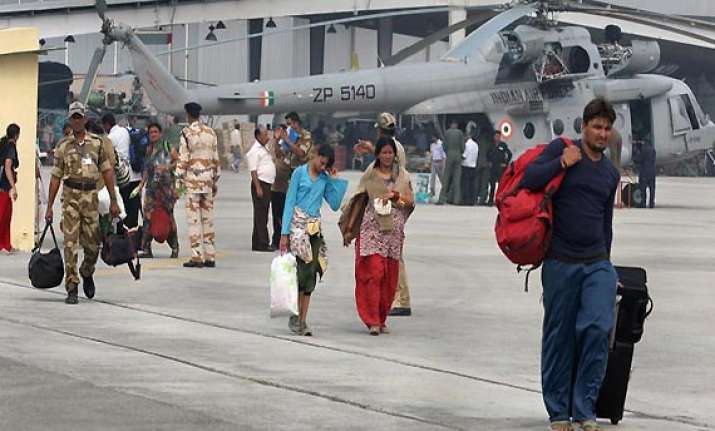 Ludhiana, Jun 22: Shiromani Gurdwara Prabandhak Committee (SGPC), apex body of Sikhs, today dispatched two dozen vehicles including ambulances to Dehradun to assist the ongoing rescue operations in flood-ravaged Uttarakhand. 
Mini buses, SUVs and ambulances have been sent to the hill state, SGPC President Avtar Singh Makkar said.  
A team of doctors has been rushed to Dehradun, he said.  
Langars (community kitchens) have been set up by the SGPC for stranded pilgrims, he told reporters here.  
According to Makkar, Punjab Chief Minister Parkash Singh Badal has cut short his foreign trip and reached Dehradun.  
"Badal has already got in touch with the Hemkunt Sahib Sikh pilgrims and others," he said.
The SGPC chief lauded the role of the Army, ITBP and other forces in the rescue operations.
Meanwhile, vice chairman of Shri Hemkunt Sahib Management Trust Narinderjit Singh Bindra said that over 600 pilgrims who were rescued from Gurdwara Govind Dham yesterday had to spent night along the banks of river Alaknanda as they could not cross the river.
The rescue operations to evacuate pilgrims from Gurdwara Govind Dham received setback on yesterday evening as temporary bridge over Alaknanda river laid by ITBP personnel fell and became non-functional.
Two temporary helipads have been made on the both sides of Alaknanda at Gurdwara Govind Ghat and two helicopters of Indian army are being used to airlift stranded pilgrims to help them cross the river.
About 70 odd pilgrims are still stuck near Gurdwara Govind Dham, he said.
Meanwhile, Haryana Chief Minister Bhupinder Singh Hooda met his Uttarakhand counterpart Vijay Bahuguna in Dehradun and assured all help for the relief and rescue operations.  
Hooda left his official helicopter at the disposal of Uttarakhand government for relief operations, a Haryana government release said.
The Haryana government will soon dispatch 50,000 blankets for the affected people, it said.