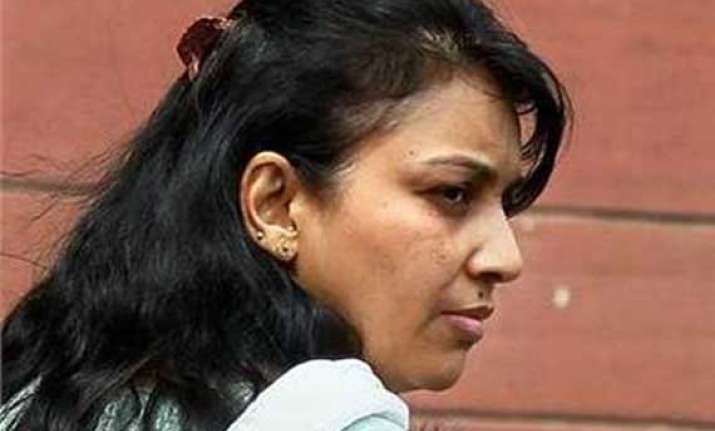 New Delhi, Jun 7: In a setback to dentist Nupur Talwar, the Supreme Court today dismissed her review petition challenging the summons issued by the Special CBI Court in the twin murder of her daughter Aarushi and domestic help Hemraj. 
A bench of justices A K Patnaik and J S Khehar also dismissed as "infructuous" the bail application moved by her.  "We have found no merit in the review petition and are not inclined to interfere with the order of the trial court," the bench said while dismissing the review petition.  
Though the bench passed a unanimous decision, Justice Patnaik preferred to write a separate judgement to point out certain infirmities in some portions of the order passed by the trial court.
However, the bench preferred not to interfere with the Special Court's order issuing processes, as the overall circumstances and detailed reasons cited in the impugned order did not warrant any interference.
The bench had on May 16 reserved the order after hearing extensively the contentions of Nupur Talwar and the CBI which had strongly opposed her pleas.
Departing from normal practice of hearing review petitions in the judges' chambers, the apex court had on March 15 decided to hear in open court the petition seeking review of its January 6 order in which it had cleared the decks for the trial of the dentist couple-Rajesh and Nupur Talwar—in the murder case by dismissing their plea to quash criminal proceedings against them.
Nupur Talwar had also filed a fresh plea for bail in the pending petition before the apex court in which she had sought review of its decision giving a go ahead to criminal prosecution against her and her husband.
In a statement, Dr Rajesh Talwar and Nupur Talwar said, "We are deeply disappointed by the dismissal of our review petition by the hon'ble  Supreme Court of India but we accept it with humility."
"However we will defend our honour and that of our only child Aarushi vigourously in the trial court."
"We will not rest till our innocence is proved, our honour vindicated and till the real killers are found and brought to book. We believe justice and truth will one day prevail".