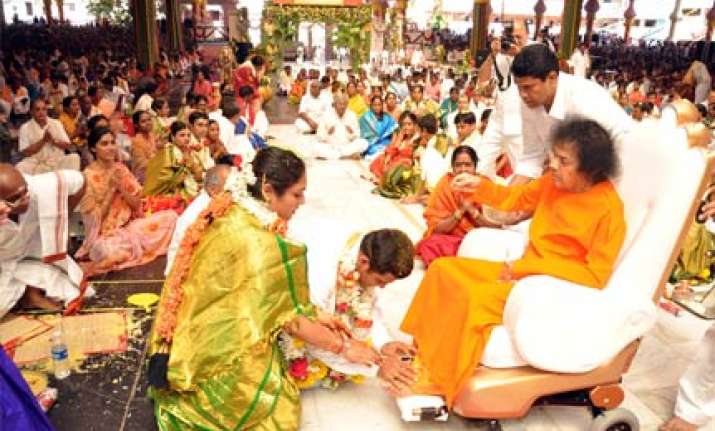 Puttaparthi, Nov 18: Shri Sathya Sai Baba  blessed 85 brides and grooms at a collective wedding held on Wednesday at his spacious ashram. This was organised by Sri Sathya Sai central Trust to celebrate the Baba's 85th birthday which falls on Nov 23.
On this occasion, industrialist Ratan Tata said:  "Sri Sathya Sai Baba is a truly outstanding humanitarian. The Sai Trust's facilities, including the Sai University and the Institute of Higher Medical Sciences are most impressive and I am overwhelmed by the quality and professionalism of the staff. These institutions are a standing tribute to the Swami's vision and attention to detail. He has given so much. The world needs his kindness and service to humanity".
The wedding of all the 85 couples were solemnized with wedding vows. Most of the couples were from the various neighbouring villages. Sri Sathya Sai Baba gifted them essential household items to begin their new life.
In the evening, noted flutist Ronu Majumdar gave his performance. He was followed by Sikkil Gurucharan, a carnatic vocalist hailing from a family of musicians.