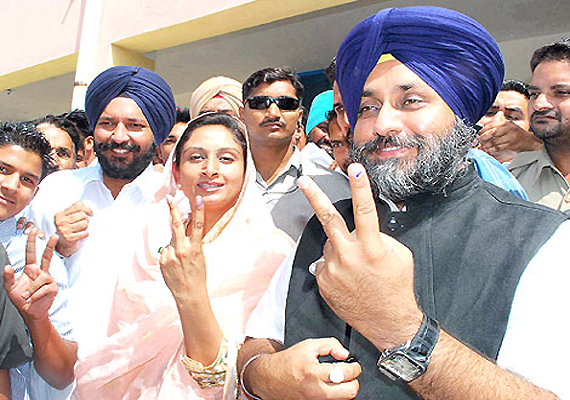 New Delhi, Mar 10: Riding on its success in Punjab where it created history by returning to power for a second consecutive term, NDA ally Shiromani Akali Dal (Badal) today favoured early Lok Sabha polls, saying the country had come to a standstill under Congress rule and people were fed up.

Badal also said NDA was currently the best alternative to Congress at the Centre in case the country went for early general elections.

"I think there should be elections as soon as possible... all are so fed up... because not a single decision is being taken by the government of India. Cases, projects are pending for years. The main meetings are not taking place... How can the country come to a standstill. I personally feel that the country has come to a standstill under the Congres rule," SAD (B) president Sukhbir Singh Badal said here today.

When asked if SAD (B) was working towards a new alternative at the Centre with Trinamool Congress and Janta Dal (United), he said the NDA would provide the "best alternative to the Congress at this moment".

"At this moment, I think the BJP, the Akalis, the NDA is the best alternative for this nation. And I think this alternative whenever it was in government before, actually performed and gave positive results. All infrastructure, major projects were initiated during Vajpayee government. So I think the next alternative and the only alternative to Congress is the NDA," he told reporters.

Charging Congress with being responsible for "corruption at such high scale", Badal said the party was being wiped out of the country as people were fed up with it.

Holding Congress responsible for price rise and corruption Sukhbir said, "People are fed up with Congress rule. Their policies, their corruption. They have realised that the party is responsible for what is happening to them. There's price rise, inflation and corruption on an unprecedented scale."

Taking a dig at Congress general secretary Rahul Gandhi for his "failure" to make much impact in the assembly polls in five states, Badal said, "We benefitted a lot in Punjab, because wherever Rahul Gandhi goes, Congress loses. So we will request and so will the entire NDA, that he should tour and campaign all over the country".

When asked whether investigations will be carried on against former chief minister Capt Amarinder Singh, who is facing corruption charges, he said, "We are not into vendetta politics, that's not our agenda".

Parkash Singh Badal will be sworn in as Punjab Chief Minister for the fifth time on March 14 and SAD chief Sukhbir Badal is likely to be sworn in as the deputy chief minister again at the swearing-in ceremony at Chhappar Chiri village near Chandigarh.