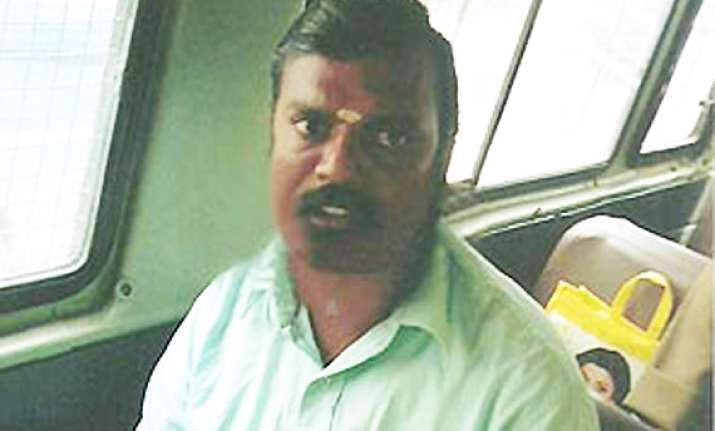 Bangalore: Notorious criminal and serial rapist Jaishankar was arrested today ending a massive hunt for him, five days after he made a sensational escape from the high-security central prison here.
A special team arrested Jaishankar at Kudlugate on Hosur road with the help of an informant who received a call from him asking for a vehicle to escape, Police Commissioner Raghavendra Auradkar told reporters here.
Auradkar said in an effort to trace the escaped convict, several suspects were secured and questioned.
The special team comprising police officers who had earlier arrested and interrogated Jaishankar in the state were co-opted and inputs about him were obtained, Auradkar said.
Ten thousand posters and 75,000 pamphlets with different photographic profiles of Jaishankar were printed in Kannada, Tamil, Telugu, Malayalam, Marathi and Hindi and sent to Tamil Nadu, Andhra Pradesh, Kerala and Maharashtra, he said.
They were dispatched to all the districts in the state and special attention was given to areas covering state and National Highways, apart from pasting of posters and distribution of pamphlets at all truck terminals.
The Police chief did not disclose the details of the informant due to security reasons.
Auradkar said Jaishankar has injuries on the soles of his feet and hands and his ankles are swollen. "He also complains of back pain," he said.
Investigation is in progress to ascertain how the convict managed to escape from the high security jail, Auradkar said. "Jaishankar has given his version of the escape from the jail and we are investigating it," he said.
ADGP (Prisons) K V Gagandeep said jail authorities have taken some measures to keep Jaishankar under constant vigil. "Jaishankar will be put in a separate high-security jail and CCTV will be used to keep an eye on him 24/7," he added.
Police had announced a reward of Rs five lakh for information leading to his arrest, and issued a look-out notice after the dare-devil act, that also led to suspension of 11 prison officials for alleged dereliction of duty.
According to the official version, he used a bedsheet to scale the high security inner and outer northern periphery walls. 36-year-old Jaishankar, considered a psychopath, who was recently sentenced to 10 years imprisonment in a trespass, rape and murder case, hails from Kanyapattanam Konasamudra village in Tamil Nadu's Salem district.
The convict is facing trial in more than 20 cases in Chennai, Dharmpuri, Hosur, Salem, Tirupattur of Tamil Nadu and Bangalore Rural, Chitradurga, Hiriyur, Kadur, Molakalmur and Tumkur in Karnataka.