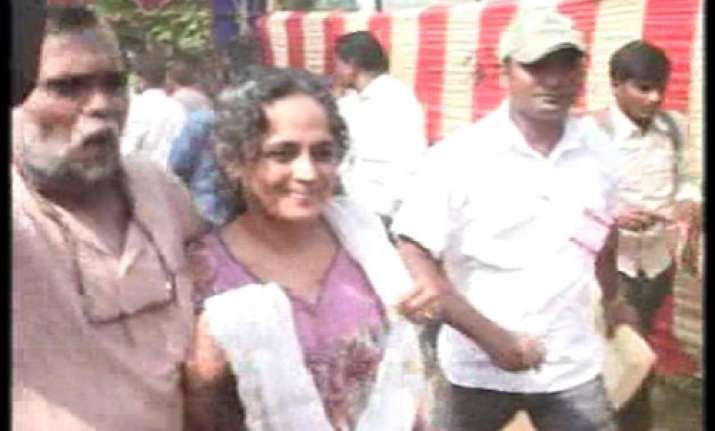 Bhubaneswar, Nov 21 : At least five people were injured today in a clash between Sangh Parivar activists and organisers of a meeting here, when the saffron brigade opposed the presence of writer Arundhati Roy there for her recent controversial remarks on Kashmir, police said.
As soon as Roy reached the meeting, a large number of activists of RSS and ABVP staged a demonstration at the entry, shouting slogans against the writer-activist and asking her to leave the venue immediately, police said.
As the protesters showed black flags to Roy and held placards branding her as "anti-national", those present at the meeting on "Cultural resistance to war on people in corporate interest", organised by a magazine considered to be pro-Left, confronted them, the authorities said.
"We are opposing the visit of Roy in view of the objectionable statement she made recently on Kashmir. We have nothing against the meeting, but she should go back," ABVP state executive member Ajay Kumar Sahu said.
He said the saffron brigade would stage similar protests wherever Roy goes during her visit here.
Heated arguments between the two sides soon led to a clash in which sticks and stones were used, police said, adding that at least five persons were injured in the incident.
The situation was controlled after police swung into action, dispersing the demonstrators. Eight of them were arrested, deputy commissioner of police H K Lal said. Accusing the police of remaining mute spectator, one of the organisers, Biswapriya Kanungo said the clash could have been averted.
He also accused RSS and AVBP activists of acting at the behest of corporates and big business houses. "Their real intention is not to oppose Arundhati Roy, but to disrupt the meeting at the behest of corporates," he said. Kanungo further alleged that many people were prevented from attending the meeting as they were detained at several places by police.  PTI