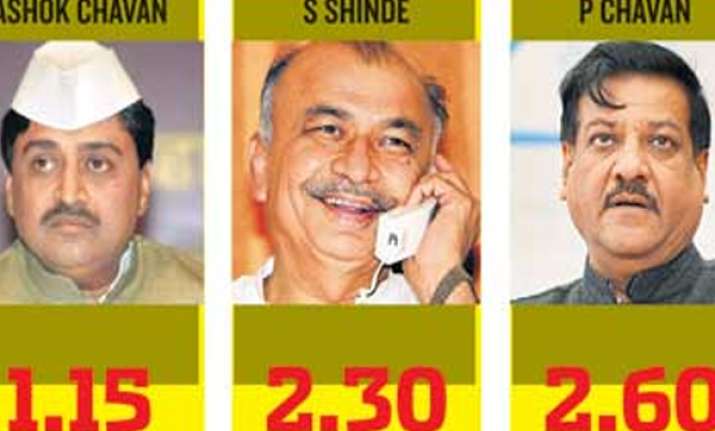 Over Rs 1,000 crore was up for grabs as betting circles were abuzz with speculation over the fate of the Maharashtra chief minister, reports MidDay
The betting became brisk on Sunday evening as some bookies got a tip-off that Chief Minister Ashok Chavan might get another chance to occupy the chair for a bit longer.After the names of Chavan's relatives cropped up as recipients of flats in the plush Adarsh Co-operative Society in Colaba, his fate hung in the balance.
Bookies were accepting Rs 1.15 on Chavan's continuing in office. In other words, if you were to lay a rupee on Chavan continuing as CM, and if he ends up doing so, you stand to win Rs 1.15.A day earlier, there was no betting on Chavan, with rumours doing the rounds that he had tendered his resignation.
"The buzz is that the allegations against Chavan are not very serious. Also, with Diwali and US President Barack Obama's impending visit, changing the chief minister would send out wrong signals," said a top bookie who did not wish to be named.On Saturday though, it was different.
"A day earlier, the impression in betting circles was that Congress President
Sonia Gandhi
would accept Chavan's resignation to save the party from embarrassment," the bookie said.The bookies also factored in other political fundamentals. 
Like Chavan's ability to coordinate with political ally, Nationalist Congress Party gave him an edge over his closest rival and another contender for the chief minister post, Sushilkumar Shinde.Shinde's going rate was 2.30 paise yesterday, which made his chances appear slim.
Also in the fray is Congress loyalist Prithviraj Chavan who is a close favourite at Rs 2.60, if appointed chief minister.Low-profile Mukul Wasnik attracted a rate of Rs 5.50.Other dark horses in the race were former chief minister Vilasrao Deshmukh at Rs 5.50 and Balasaheb Vikhe Patil at Rs 10, if nominated to the CM's post.
Another aspirant, Narayan Rane's rate was Rs 55. Bookies are aware that he is yet to find favour with the Congress high command.
Bookies said they had quoted the figures after running a serious background check on all potential candidates.For instance, Mukul Wasnik had done very little work in Maharashtra.
In Shinde's case, they said the former chief minister who eventually moved to the Centre would not like to shuttle between the Centre and state.As for Rane, his name being dragged in the temple controversy made him a lesser favourite.
Top on the list of Mumbai-based bookies is Arjun or Shoban Kalachowkie. There are other top bookies operating under the names of Kothari, LT and Manoj Metro.
Bookies like Subash Indore, Mukesh Dilli, Sunil Dilli, Julie, Pinky, Virendra Kolkata were doing hectic business late last evening.
A few bookies from Pakistan and Dubai were also in the fray. Prominent among them were Sunil Dubai and Aftab Bhatki, pointsman of gangster Dawood Ibrahim's betting empire