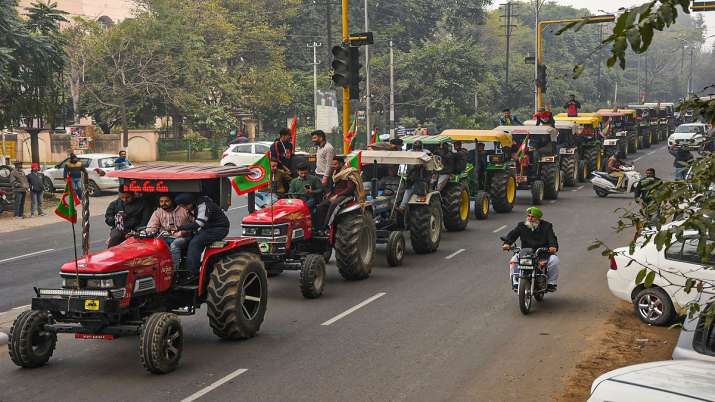 Agitating farmers, who remain adamant on their demand of repealing the three new farm laws, on Saturday claimed that the Delhi Police has given them permission to go ahead with their planned tractor march in the national capital on Republic Day. It is almost close to two months now that the farmers are continuing their protest against the Centre over the new reforms in the agriculture sector. The government and farmers unions have had several meetings over the past two months to end the deadlock, but no solution has reached so far, even after various proposal being offered by the government.
Meanwhile, on Saturday evening, farmers claimed that they will take out 'Kisan Gantantra Parade' on January 26. "Barricades will be opened and we will enter Delhi. We (farmers and Delhi Police) have reached an agreement on the route, final details are to be worked out tonight," Yogendra Yadav of Swaraj India said.
"I want to appeal to the farmers participating in the parade to maintain discipline and follow the instruction issued by the Committee," said Gurnam Singh Chaduni, Bharatiya Kisan Union.
"We will take out a historical and peaceful parade and it will have no effect on the Republic Day parade or the security arrangements," Yogendra Yadav added.
ALSO READ | Opinion | Why 'some forces' do not want the farmers to return home
But even as farmers' groups claimed that they have received permission to enter Delhi for their tractor rally that is slated to be staged on Republic Day, the Delhi Police issued an official statement saying that talks with the protesting farmers are still in the final stage.
"When the protesting farmers would give us in writing about the route of the proposed tractor rally on January 26, we will analyse it and take a decision. Protesting farmers have not given us anything in writing regarding the route (of proposed tractor rally on January 26)," Delhi Police said.
The development came after a meeting of the farmer organisations with the Delhi Police, Haryana Police and UP Police on Saturday regarding the proposed tractor rally by the farmers.
"There will be 5 different routes and we will create separate maps for each route. We will share it once they are ready," the farmers' bodies said.
Several batches of farmers from Punjab and Haryana set out on their tractor-trolleys and other vehicles to take part in the proposed tractor rally on January 26 in the national capital.
Tractor-trolleys have now become a common sight at the Singhu border as the farmers have started bringing in the tractors, two placed on a trolley, to the protest site from villages in Punjab for the proposed rally.
Thousands of farmers from Punjab, Haryana, Uttar Pradesh and other states have been protesting at multiple border points of Delhi at Singhu, Tikri and Gazipur borders since November-end. They are demanding a repeal of the three central farm laws passed by Parliament in September last year.
ALSO READ | Farmer unions hold meet to reconsider govt proposal to put farm laws on hold