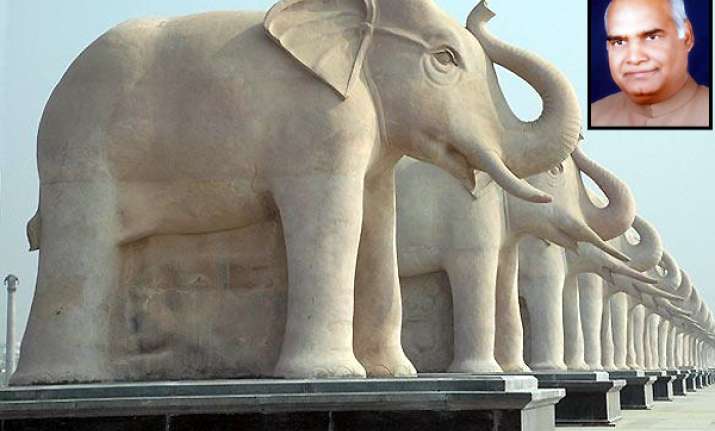 Lucknow, Jan 1: Ahead of the upcoming Assembly polls in Uttar Pradesh, the BJP on Saturday demanded that the Election Commission should order removal of statues of elephants - the poll symbol of BSP - installed in the state.

"Though government hoardings and advertisements were removed after model code of conduct came into effect, the statues of elephants have not been removed," BJP national spokesman Ramnath Kovid told reporters here.

"This is also a medium of publicity. We demand that to maintain impartiality of elections the EC should initiate immediate steps to remove these statues," he said.

On Chief Minister Mayawati sacking more than a dozen ministers ahead of the polls, Kovid claimed the move was nothing but a "political gimmick" to garner votes.

"This is an unprecedented incident of removal of so many ministers. It proves that for the last four and a half years the Chief Minister was leading a cabinet full of corrupt and criminal ministers," he alleged.

"If Mayawati failed to get information regarding the corrupt and criminal activities of her ministers for such a long time then it proves her administrative inability and ineligibility," he said.

The BJP spokesman also questioned why cabinet minister Naseemuddin Siddiqui was not dismissed despite facing a Lokayukta inquiry.

"It seems that the Chief Minister realises that by dismissing Naseemuddin Siddiqui, the Lokayukta inquiry will reach her doorstep," he said.