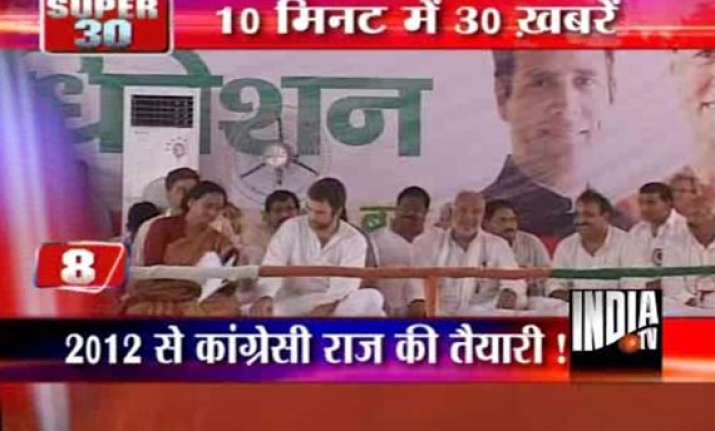 Varanasi, May 18: A combative Rahul Gandhi on Wednesday vowed that he would not allow the future of farmers  in Uttar Pradesh compromised on the land acquisition issue.
 
"Abhi hamne Bhatta-Parsaul mein shuru kiya hai, Aage dekhiye kyaa karte hain" ( I have started this in Bhatta Parsaul, just wait and see, what we will do), said Rahul.
 
 
"UP ke kone kone mein pahunchoonga. Aapke saath chaloonga, karyakarta ka haath pakad  kar ladoonga"( I will go to the length and breadth of UP. I will go with you, I will hold our workers' hands and fight), asserted the Congress general secretary.
 
Rahul put a poser to the UP government: "If everything is normal in Bhatta Parsaul, why is  Sec 144 there?  Why are the males still fleeing their homes?"
 
Gandhi demanded a judicial probe into the clashes followed by police firing in Bhatta-Parsaul villages  adjoining Greater Noida.
 
The Congress leader told workers that the party in UP would move forward only if it takes up  people's issues. "There are no dearth of issues in UP, whether central UP, western UP or eastern UP or even Bundelkhand", he added.
 
He repeated his charge that the Mayawati government in UP was not working upto the expectations of the people. "Our fight is not for winning elections only", he clarified.
 
The party convention was attended by Congress leaders from all over the state.
Unfazed by the attack on his claims on the alleged police brutality in the villages of Greater Noida, Rahul Gandhi  appeared to justify those remarks saying people there had complained to him about the atrocities they were subjected to.
Declaring a war against Mayawati government, he said Congress would go to every village of the state and fight for ousting the government.
"Locals said that they were ready to give land.  Women and poor farmers in the village told me, see what is happening to us. Why our houses are being burnt? Why are we beaten up? These questions are being asked," he said.
"The Uttar Pradesh government says all is well in Bhatta Parsaul. Then why Section 144 (prohibitory orders) has been imposed there. If everything is alright, why people are fleeing? If everything is alright, why a judicial probe is not being ordered? Free and fair inquiry is the need of the hour to fix responsibility", Gandhi said.
Rahul's remarks come in the wake of media reports quoting villagers in Bhatta-Parsaul about the alleged police atrocities but disclaiming knowledge of rape of women and burning of farmers.
Challenging BSP, which says that he lacked issues, Rahul said that he had a lot of issues and time and would reach all the village of the state to fight with common man.  "I will reach every corner of the state and fight with you holding your hands. We will fight them (UP government) in every village and we will throw them out," Gandhi said adding it was not a fight for elections.
While Gandhi himself remained silent on the veracity of the allegations he made after meeting Prime Minister Manmohan Singh on Monday, Congress party came out in his defence saying he only repeated what the villagers told him.
"Whatever has come in media in unfortunate. Nowhere did he (Gandhi) mention the number of 74 or 74 bodies. Rahul Gandhi had only said that at one place an ash heap of 70 foot area was there in which bones were found," Congress General Secretary Janardan Dwivedi Dwivedi told reporters in New Delhi.