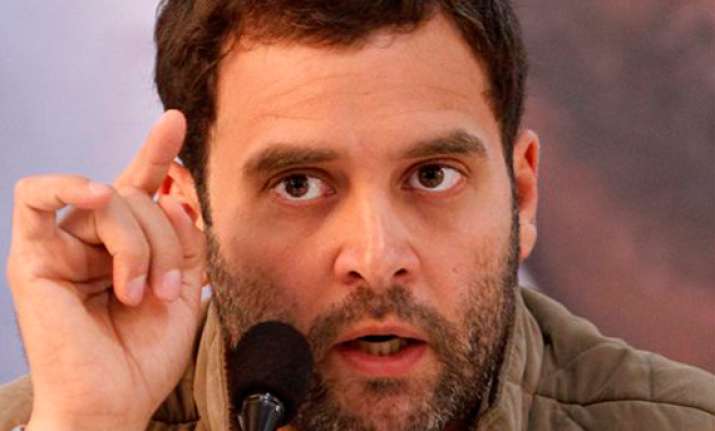 Bhadhohi (UP), Feb 7: Having made it clear that he was not obsessed with becoming the prime minister, Congress general secretary Rahul Gandhi today termed posts as hurdles which bring distance between people.

Rahul went to the extent of citing the example of his bete noirs Mulayam Singh Yadav and Mayawati to drive home his point.

"Politics does not mean posts... posts lead to distance.  ....these posts take the shape of walls ", Gandhi said addresing an election meeting here this afternoon. 

He said, "Mayawati became the chief minister, she did good work earlier...Kanshi Ram did good work...but later she got a 40 feet wall made (around her bungalow) and forgot about the people".

Similarly, he pointed out that when Mulayam Singh Yadav became the chief minister "he did good work earlier". 

Referring to senior Congress leader Salman Khursheed's statement that Rahul has shown a way to the people, he said that though he respects Khursheed a lot "the reality is that it is not Rahul who has shown people the way but people have shown a way to Rahul".

Lamenting the state of affairs in Bhadhohi, the area where carpets are made, he said that earlier 50 thousand people from other parts of the country used to come here and work but today people from here are being forced to go out for work.

We gave a package to weavers, he said adding that his party would not allow their voice to die down. 

In the past 22 years, the non-Congress governments led by Mayawati and Mulayam Singh Yadav have tied the hands of people and deprived them of power, he said.

Asserting that his main aim was to win over the confidence of the people, Rahul Gandhi said that he was not concerned about the election results which could be 200 seats or two seats "we will think that we have got your confidence". 

Campaigning for party nominees, he said that he has learnt more from the farmers of Bundelkhand than he got to learn during his education in America and England. 

Earlier in his address, union minister Salman Khursheed said that sub quota for backward minorities would not create problems among the backwards.

Khursheed appealed to the electorate to vote for the Congress in return for the concern and works of Sonia Gandhi and Rahul Gandhi for minorities and women.