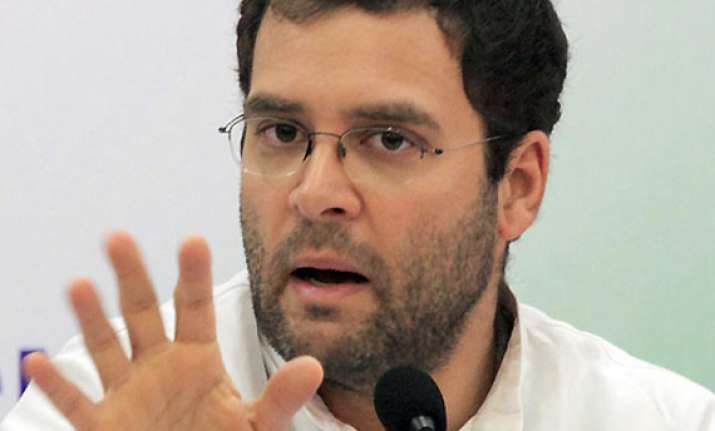 Soraon (UP), Feb 11: Congress leader Rahul Gandhi today said Mayawati government was more sympathetic towards "rich builders" than poor farmers and charged BJP, SP and BSP with only serving their respective "vote banks" when in power in Uttar Pradesh and ignoring the common man.

"Elections usually usher in a change. In UP, many elections have taken place in the last 22 years but no change has been noticed. This is because during this period, the state has been ruled by parties which were interested only in their vote banks which normally comprise not more than 10 per cent of the population.

"As a result, they have completely lost touch with the common people and issues concerning them," Gandhi told an election rally here, 25 km from Allahabad. He criticised the BJP for having raised the slogan of 'India Shining' during the 2004 General elections, saying, "This shows that the party's leadership had never cared to empathise with the masses who have been struggling to make their ends meet."

Coming down heavily on the Mayawati government, the Congress general secretary said the BSP supremo has been running a government which is "more sympathetic to rich builders than poor farmers".

"I got evidence of this when I visited Bhatta Parsaul and learnt from the farmers that their land was acquired without prior notice from the administration. When some of them tried to raise questions, they were beaten up by police and put behind bars," Gandhi said.

The Nehru-Gandhi family scion said it is this attitude of the state government which is reflected in the chief minister casting doubts on the efficacy of pro-poor schemes like MNERGA and the proposed Food Security Bill. He also took a dig at SP chief Mulayam Singh Yadav for promising 24 hour power supply in the state.

"In the last 22 years, during which Yadav has been in power on three occasions, not a single power plant has been set up. I wonder how he is going to fulfil this promise," he said.

All these parties, Gandhi said, "go on making absurd promises because they have no respect for the common people. They have never interacted with the masses and are therefore unable to appreciate the wisdom which I came in touch with while visiting the homes of farmers, labourers and the most backward sections of society".

He said Congress does not believe in making empty promises.

"Our aim is to unleash your dormant potential. We want to untie your hands so that the energy which you put in development works taking place in other parts of the country is utilised for the betterment of your own state. "I do not care how many seats my party wins in the ongoing Assembly elections. I will keep fighting for you till your voice starts getting heard in Lucknow just as it is already being heard in Delhi," Gandhi said.