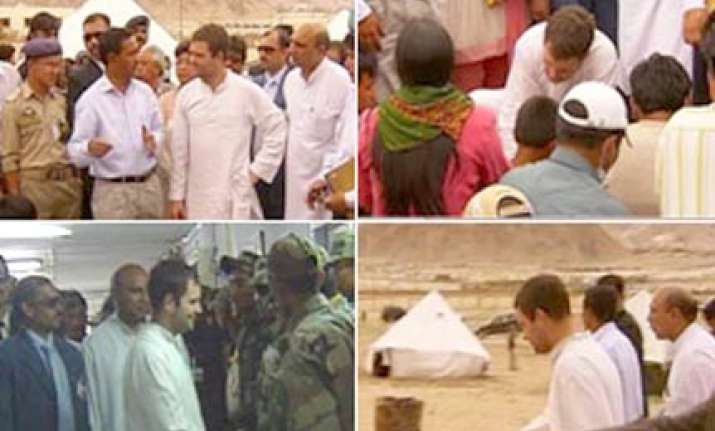 Leh: Rahul Gandhi's whirlwind visit to Leh on Monday  won many a heart with some of the survivors of the devastating flash floods banking on his trip to provide the much needed healing touch.
Dressed in his trademark white 'kurta pyjama', the 40-year-old Congress leader during his five-hour visit tried to pep up the spirits of people recovering from the trauma and empathised with them. Rahul's visit came a day before Prime Minister Manmohan Singh's trip here and ten days after the natural disaster had struck this picturesque place.  
He visited various relief centres set up by the Army, ITBP and Border Roads Organisation and made an instant connect, especially with the youngsters.  
"I am very happy that he came here and spoke to us. I believe that he will help us as promised," said Jigmat Yangcham, a first year psychology student of Leizer Joldan Memorial College said. Asked whether she felt happy about meeting Rahul the politician or Rahul as a person she said "both".
Yangcham, who was crying when she first spoke to Rahul was all smiles by the time he left. Rahul spent at least 45 minutes at the relief camp that he visited talking to a large number of people present. He shook hands and  freely put his arms around the shoulders of others. He sat on the plain dusty ground and listened to the villagers pouring their hearts out. He went under the barricades to visit a tent set up for the victims.  
At times, he could be seen having an intense conversation with children. He even spoke in English to a child and patted his head when the child said he wants to be a teacher when he grows up.  
Sporting a stubble, Rahul enthralled them with his plain speaking and rapport building skills.
"He is just like any of us. Remove the security and he looks like any other regular person," said Taki, a Taxi driver who waited for over an hour to catch a glimpse of the Congress leader. While Rahul shied away from the media, repeated requests for a quick interaction was met with only a smile. PTI