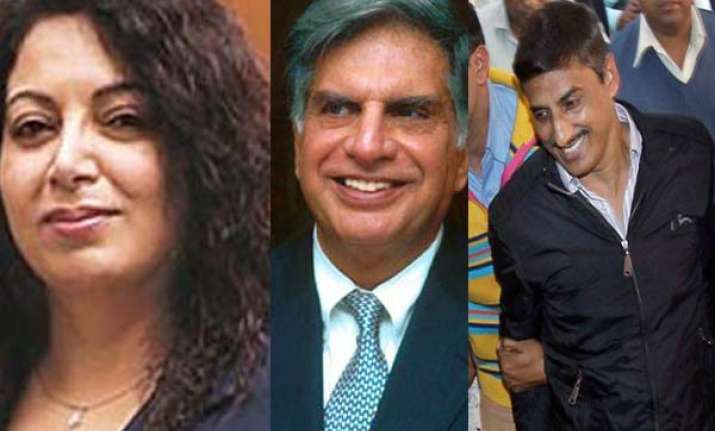 New Delhi, July 29; R K Chandolia, the former personal secretary to disgraced Telecom Minister A Raja, told the CBI court on Friday that he was only following his master's instructions.

Chandolia told the special CBI court  that he was double-crossed by the investigating agency which asked him either to  become approver or become an accused in the 2G scam.

Chandolia defended himself in the court, saying he was a government official and followed the order of superiors.
"I am a government official and just did what I was asked. I have done nothing wrong in the 2G scam".

Targeting the Tatas and lobbyist Niira Radia, Chandolia said if he could be accused in the 2G spectrum scam, then so should they.

Chandolia began his arguments in the court by opposing the charges against him and saying he was a government official who was following the order of superiors.

"The deal took place between Radia and the Tatas, they are not in jail, and my client who is not involved is in the dock," Chandolia's counsel Vijay Aggarwal told CBI special judge O.P. Saini.

His counsel said: "If the crime is done by my client, then Tata and Radia are also on equal footing."

Chandolia's counsel argued he just followed the orders of A. Raja. "It was Raja who took Niira Radia's help... and my client just followed the orders," said Chandolia's counsel.

"Radia called the office that time, my client had picked up the phone and she wanted speak to Raja. As he was not there she asked him to tell Raja that the KTV problem has been sorted out," said Aggarwal.

"My client only conveyed what happened, how can he be a conspirator?" he asked. The counsel also added there are no recorded conversations of Chandolia.

The counsel further questioned the CBI's role. "We all know that CBI is the most clean agency, but it does not have guts to touch the Tatas and Radia."

Defending Chandolia, the counsel told the court that his client was a personal assistant and had no major role to play.

"He was just assisting the minister in his day to day work and he was not supposed to apply his mind and he only did what his master (Raja) said...

"Can an assistant ask the master what decision have they made? How is he concerned and what is his role?" the counsel argued.

At present, Chandolia is lodged in the Tihar jail along with Raja, Behura, Kanimozhi and other accused.

A 1984 batch Indian Economic Service officer, Chandolia was former A. Raja's private secretary during the UPA first term when the 2G spectrum licences were awarded. When Raja became the Telecom Minister again in UPA's second term, Chandolia was promoted to the Joint Secretary rank.

Raja re-designated him Economic Adviser, which gave him charge of policy-related work.

Chandolia reportedly interacted with all the licencees and it was he who, from DDG-Access Services A. K. Srivastava's room, handed out letters of intent to the companies.

Chandolia's plea for interim bail on the ground the CBI lacks proper sanction to prosecute him in the 2G case was dismissed today by the Delhi court.

"Your application is dismissed," special CBI judge O.P. Saini said, dismissing  Chandolia's plea, minutes before he opened his argument opposing corruption and various other penal charges against him in the case.

Chandolia, a key accused, was arrested on February 2, 2011, for his alleged role in the 2G spectrum allocation scam.  He was named as accused in the first charge sheet filed by the CBI.

He had sought interim bail contending that the CBI did not have the valid sanction from the competent authority under Delhi Special Police Establishment (DSPE) Act to probe the case against him.

He claimed there is no sanction to prosecute him for the offences punishable under section 120-B (criminal conspiracy) and 420 (cheating) of the IPC and had sought interim bail till the disposal of his application.

Countering his plea, the CBI had submitted that Satish Bhushan, Under-Secretary (Vigilance), Ministry of Finance, had conveyed the government's permission as required under the DSPE Act to initiate inquiry against him in a letter dated December 7, 2010.

The CBI had contended that Raja's former personal secretary's plea was based upon incorrect assertions.

"A. Raja was the (Telecom) Minister and my master. I merely carried out his instructions," advocate Vijay Agarwal, appearing for  Chandolia, told  judge O.P. Saini.

"I was his (Raja's) sophisticated helper. I am only an extra assisting hand to carry out instructions of my master. Can I question my master? How can an assisting staff be roped in by the CBI?" he asked.

He submitted he is not a person associated with the DMK, Kalaignar TV or any other telecom company.

Chandolia, who began his arguments on Friday, opposing framing of charges against him, also challenged the CBI to show a single document as evidence in which he had signed.