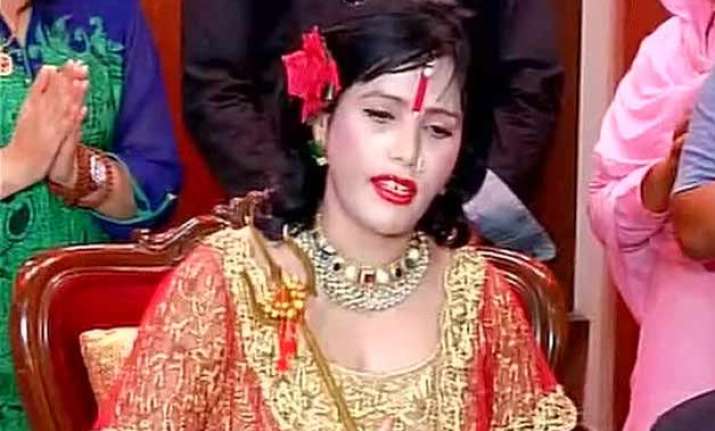 Mumbai: Controversial self-styled godwoman Radhe Maa today broke her silence saying she is 'pure and pious' and has complete faith in media, police and judiciary.
Claiming that she innocent, Radhe Maa said, "Main Media se, Police se, Kanoon se bahut sneh rakhti hoon, mujhe vishwas hai ki bhagwan insaaf karega (I have deep respect for media, police and law, I strongly believe that God will justice to me)."
She was reacting to the summons issued to her by local police in connection with a dowry harassment case filed by a 32-year-old woman in Mumbai.
While talking to mediapersons, Radhe Maa said whoever comes to her, god showers mercy on them and people call it Radhe Maa's miracle.
She used an Urdu couplet to ascertain her innocence and said lies are being spread out about her.
"Sachai chup nahi sakti banavat kay usulon say, khushbu aa nahii sakti kagaz kay phoolon sey (Truth can not be kept hidden with false propaganda, as flowers made of papers can not spread fragrance).
A woman from Mumbai's Kandivali area had last week filed a police complaint against self-proclaimed godwoman of instigating her in-laws, who are her followers for many years, to demand dowry from her.
Another case against Radhe Maa has been filed by a Mumbai based lawyer for obscenity and cheating her followers after several photos of her wearing mini skirt surfaced on social media.