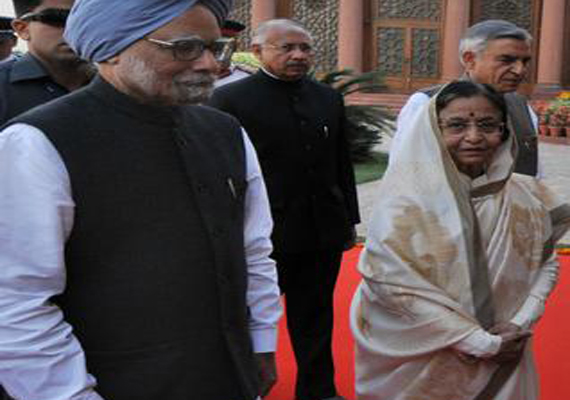 New Delhi, Mar 12: The government on Monday unveiled a blueprint for guaranteeing internal and external security, and economic and livelihood security as it expressed confidence that it will steer the country back to the high growth trajectory of eight to nine per cent.

With the government's image taking a knock on account of a number of scams, President Pratibha Patil listed a number of measures and said these have the potential of bringing about a transformational change in curbing corruption and enhancing transparency and accountability in governance.

In her address to the Parliament's joint sitting on Monday, the President came out with the government's plan of action for the coming fiscal in which she expressed government's commitment to resolve all outstanding issues with Pakistan through dialogue.

But she asked Pakistan to take credible action against terrorist groups and related infrastructure on its soil.

The President also supported the National Intelligence Grid and the National Counter Terrorism Centre which she said aimed to improve India's capability to counter internal security threats.

Elaborating on the five "important challenges" the government faces today, Ms. Patil said the government will work to guarantee internal and external security within the framework of a "just, plural, secular and inclusive" democracy.

It will also strive for livelihood security for the vast majority of the population and continue to work for removal of poverty, hunger and illiteracy, she said.

Ms. Patil said government would work to achieve economic security through rapid and broad-based development and creation of productive jobs and ensure energy security for our rapid growth.

She said the government will also strive to realise developmental goals without jeopardising ecological and environmental security.

Touching on economy, she said the current year has been a difficult one for world economy and uncertainties have had an adverse impact across the globe. "There is increased political uncertainty and turbulence in the international system and the environment in which we operate has become more challenging over the last one year.

"Our economy grew at a handsome rate of 8.4 per cent in 2010-11, but it has slowed down to about 7 per cent this year. This remains a healthy growth given current global trends," Ms. Patil said.

Asserting that the long-term fundamentals of the Indian economy remained robust, she said India's growth prospects arise from factors such as high domestic savings and investment rates, favourable demographics, and a stable democratic polity.

"My Government is confident that it will soon steer the country back to the high growth trajectory of 8 to 9 per cent," she said.

Maintaining that the government has remained committed to providing an honest and more efficient government, she said the government has taken several further important steps towards that end.