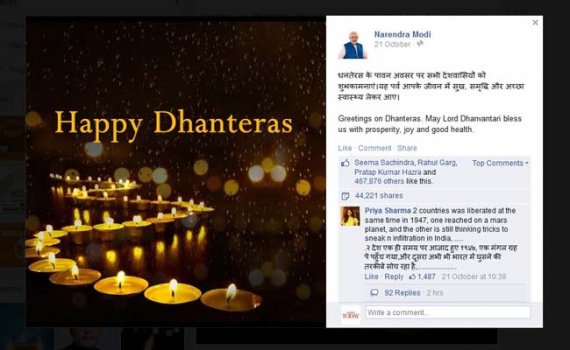 New Delhi: We have come across  many case of people using photographs clicked by others  without permission or photo credit and this time PM Modi has been put in dock for using an image of a photographer without his permission.
A US based photographer, Bimal Nepal has claimed that PM Narendra Modi's Facebook page wishing 'Happy Dhanterashas' used the photograph clicked by him.
The banner in the post has a photograph of diyas arranged in the s-shape for which no photo credits has been given. The photographer Bimal Nepal has claimed the photo used in the banner was clicked by him and posted on image-sharing website Flickr on 11 November, 2012. And he has started a social-media stir asking other users what he should do about the copyright issue.
Bimal Nepal put out a message on his Facebook page saying that he was honoured but raised concern about the fact that neither his permission was taken nor was credit given to him. He also put out his original photo and the slightly edited photo that the PM's greeting had used.
Bimal Nepal's Facebook post -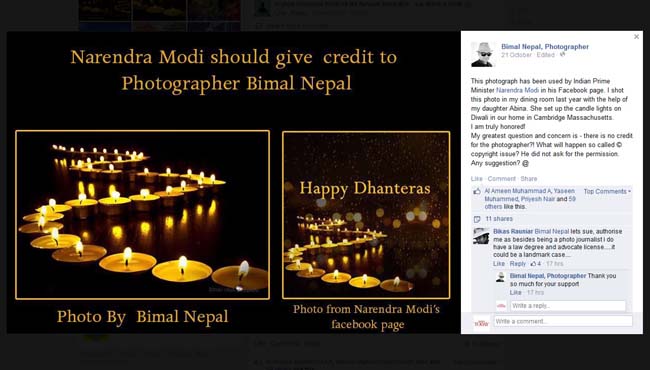 This photograph has been used by Indian Prime Minister Narendra Modi in his Facebook page. I shot this photo in my dining room last year with the help of my daughter Abina. She set up the candle lights on Diwali in our home in Cambridge Massachusetts.
I am truly honored!
My greatest question and concern is - there is no credit for the photographer?! What will happen so called © copyright issue? He did not ask for the permission. Any suggestion? @
PM or his officials are yet to react on the claims made by Bimal Nepal.