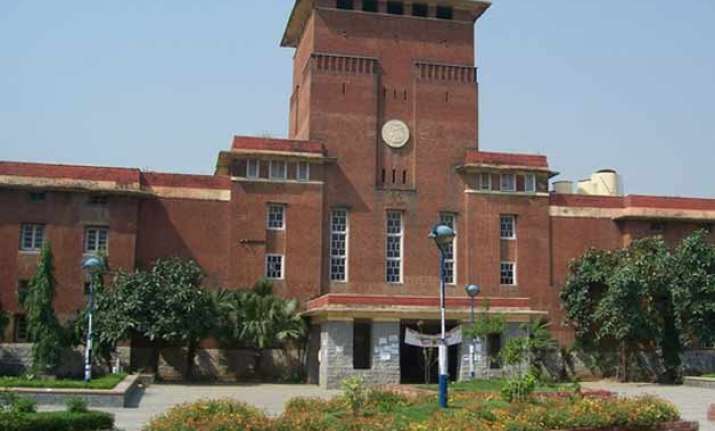 New Delhi: Delhi High Court yesterday sought the responses of Delhi University and Kerala government on a plea claiming that each college in the capital had different criteria for calculating cut-off marks of students from other state boards during the admission process.
Justice Rajiv Sahai Endlaw issued notice to the Delhi University, Kerala government as well as Hindu and Hansraj colleges, seeking their replies on a plea by a student from the southern state who has sought a uniform system of admission to be followed.
The court listed the matter for hearing on July 6.  Thabassum Ahammad N K has contended in his plea that while his marks for admission was calculated as 99.6 per cent by St Stephens, Hindu and Hansraj colleges arrived at 93.33 per cent and 92.23 per cent respectively without any basis.
He said this problem was being faced by several students who had studied under the Kerala state board due to a DU circular which said all discipline subjects must have at least 70 per cent component as theory, which does not include internal assessment or continuous evaluation.
Under the CBSE pattern of exams, there is 70:30 ratio of theory and practical, while in Kerala State Education Board "the evaluation system is that 20 per cent will be given for internal assessment, 20 per cent for practical and 60 per cent for theory/written exam", the petition said.
"Thus even if a student has obtained 100 per cent marks, he will be evaluated only on the 60 per cent written exam, excluding marks obtained by the student in practical test which is an integral part of the exams as subjects like physics, chemistry and biology cannot and should not be evaluated without the practical.
"By reducing straight 10 per cent from the total marks in the case of above mentioned student (Ahammad), the authority is denying his rightful admission in the first-cut off list," the petition said.
It also said "there is no uniform system of admission in Delhi University (DU) and there is a lot of confusion and misunderstanding with regard to calculation of cut-off marks, especially regarding students from other state boards." The petition, also signed by a DU alumni - Thufail, has termed as "highly discriminatory" that three DU colleges, following the same system, calculated Ahammad's marks "in a totally different manner".
It states that while Ahammad got 100 per cent marks in Physics, Chemistry and Maths (PCM) subjects, at Hindu College he was told that his PCM percentage will be 93.33 per cent after evaluation and Hansraj College informed him that his PCM will be 92.23 per cent as per their calculation.  
"There is complete violation of the principles of natural justice and the admission guidelines have not been followed by the respondents No. 3 (Hindu) and 4 (Hansraj)," the plea said.
It said that in Kerala Board exams, teachers from other schools, selected by the education department, conduct the practical test and give marks in secret.
"This is not a part of the continuous evaluation.  There is a separate system of continuous evaluation and segregated 20 per cent marks for the same. ...  "The practical exam cannot be taken as similar to internal assessment as the internal assessment is done by the same school, whereas the practical exam is conducted as a part of the Board examination." it said.
The petition sought directions to DU and its colleges to "consider 80 per cent of the total marks for theory component, including practical, and not to deduct any marks in the name of continuous assessment in the case of students who have passed out from Kerala Higher Secondary Board".
It has sought directions to Kerala government "to issue necessary clarification" to DU with regard to the examination pattern and the awarding of marks to students of Kerala Higher Secondary Board and protect their interests.
The petitioners, Ahammad and Thufail, have also alleged that "serious complaints", including exercise of regional bias by those in charge of admissions, have been received from various students now seeking admission in Delhi University.
They have also said that some colleges, like Kirori Mal, were not entertaining students who are coming with attested copies of mark sheet from the school and being denied admission because the original one was not produced.
 "The issue is that the Kerala State has not issued the original mark sheets and so denying the admission to the students merely on this ground will be an injustice to them," they said.