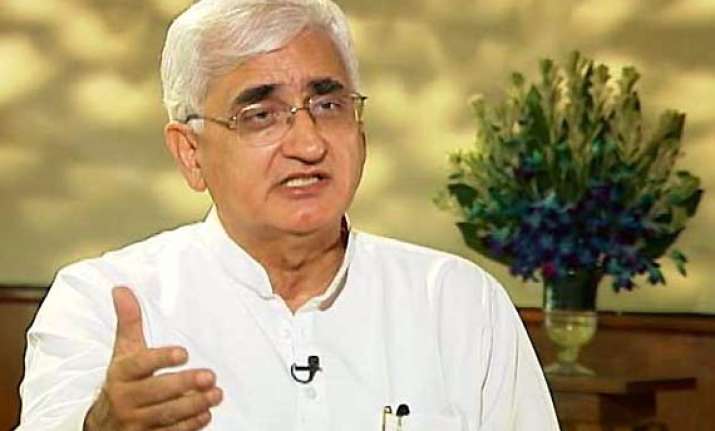 New Delhi, Dec 14: In a veiled attack on Team Anna for its remarks that people and not Parliament is supreme, Law Minister Salman Khurshid today said it is the people who have given Parliament the power to make laws. 

"We have recently heard in streets people say that the people are sovereign and therefore Parliament must listen to people. I think it is an unexceptional statement that Parliament must listen to people. But Parliament listens to people when it says that people have told us that you make the law...Parliament gets its power from nowhere else but people," he said.

Khurshid said if people don't like the laws, they can change its representatives in Parliament. "But people have not said in this country we will make the laws and you just endorse it and just put your stamp on that."

He was delivering the Dr B R Ambedkar memorial lecture on 'civil society, democratic polity and democratic governance' here.

He said some people question the standing and sovereignty of Parliament when they claim that laws must be made by the people.

"When they say that every village and every panchayat must be consulted in making the laws of the land. Of course, it is a very romantic idea. But how long will it take to make the law"? he said referring to the demands that laws must be drafted after wider consultations and through referendum.

Defending Congress' decision not to participate in the debate on Lokpal during Anna Hazare's day-long fast at Jantar Mantar on Lokpal Bill earlier this week, Khurshid said party representatives did not go "because we really wanted that debate to take place in the House."

"And if the debate had taken place in the House, we could have gone to explain what the House has done. But we did not want to come back to the House and explain what happened there because the House has the first right to apply its mind.  Because the House has the backing of the people."

Referring to judicial interventions in certain matters, Khurshid said governments have sometimes felt upsetat such interventions saying judges are not accountable to the people like politicians.

"But the courts say we protect your water, air, forests, tribals, environment. We do it because under the political system, you are unable to do it," he said.  Terming it as "some form of doctrine of necessity," he said it has worked well.

"Politicians have discovered...something which we can't handle, we wink and say let it go to courts and let the courts decide and many problems have been resolved by courts, something that we could not possibly do," he said. 

"Is this also civil society? Is this the work of courts which is civil society? But the courts even in doing this impose certain constraints upon themselves, certain restrictions," he said referring to judiciary decision to draw its limits vis-a-vis governance.

He said the civil society's  dissent becomes different from the dissent and disagreement and the right to disagree that India knows from the works of Mahatma Gandhi.