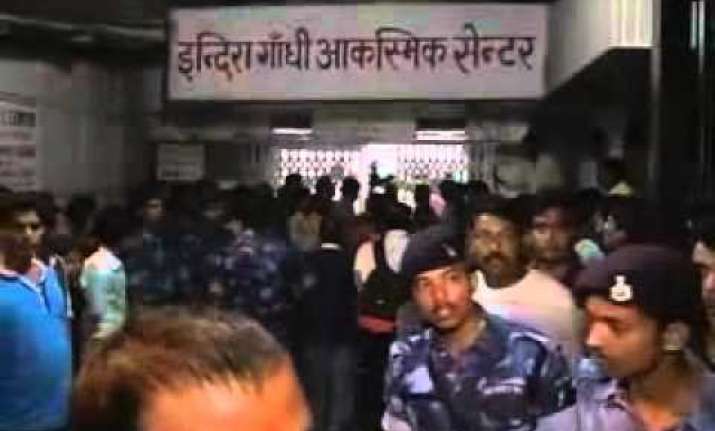 New Delhi: Members of the crowd that attended Dussherra celebrations at the Gandhi Maidan Friday evening, where a stampede left 32 people dead, razed down a traffic post venting their anger at the police.
The crowd vented their ire by razing down the post on South-East side of the Gandhi Maidan en route to Exhibition Road, burning tyres and raising slogans against the police.
Senior police officials with anti-riot vehicles rushed to the spot and managed to control the protesters.
An ice-cream vendor Suman and his friends Ranjit Kumar and Ajay Prasad who claimed to have witnessed the horrific incident said the rumour spread by some youths about electric wire dangling overhead, an old man falling down after entangling with a cable, and jostling among the people to exit from one gate were among several reasons triggering stampede.
There was little space for the people on the road as vehicles of district police and VIPs were parked on the road on South-East corner of Gandhi maidan, they said.
An elderly man Suresh Prasad, hailing from Lohanipur was seen searching for his four-year-old granddaughter who went missing in the melee.
Prasad's daughter Soni said that the girl, daughter of her elder sister, went missing after an unidentified man took her and left from the spot.
"We are desperately searching for her and have lodged a complaint with the police," she wailed.
"I hope she (her niece) is safe in the hands of that unidentified man," Soni said as her elder sister sobbed inconsolably for her missing daughter.
A number of eyewitnesses said that while scores of people ran for their life from an exit gate on way to Kargil Chowk, a large crowd tried to make way to the Exhibition road where many people, including women and children, met their tragic end.
The narrowness of space on Exhibition road due to construction of a flyover was a major reason for high number of causalities, those present testified.
There was inadequate street light on South-East side of Gandhi Maidan as people ran for life and in the process fell on each other in the darkness, the eyewitnesses said.
Even the situation at the sprawling Gandhi Maidan later on was not found to be any better as there was total darkness in the premise after the stampede with the state government and district administration shifting their focus on the PMCH where the injured revellers have been taken for treatment and on the streets for security reasons.