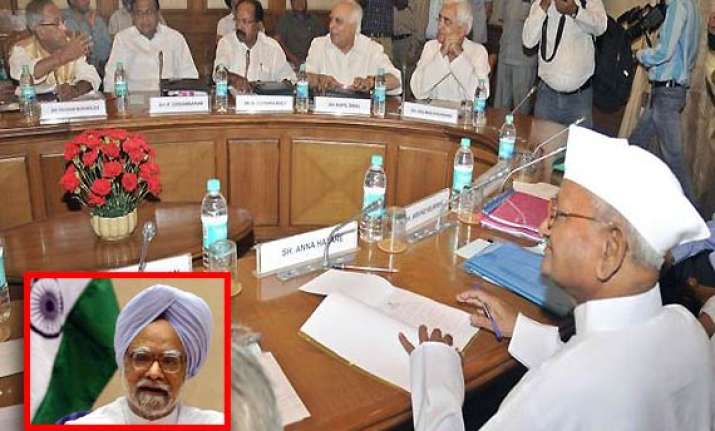 New Delhi, Dec 6: In the face of sharp divisions, the Parliamentary panel scrutinising the Lokpal Bill has decided to leave the issue of inclusion of Prime Minister under the ambit of the ombudsman to the "good sense" of Parliament.

The Committee, which had earlier decided to include Group C officials within the purview of Lokpal, has also recommended to exclude the category.

In the 199-page final draft report circulated to the members today, the Parliamentary Standing Committee on Personnel and Law and Justice has said that three broad views have emerged on the inclusion or exclusion of Prime Minister under Lokpal.

These views should be sent as "options" and it should be left to the "good sense" of Parliament to decide on which option needs to be adopted.

"It would be, therefore, pointless in debating the diverse arguments in respect of each option or against each option. In fairness, each of the option has a reasonable zone of merit as also some areas of demerit. The Committee believes that the wisdom of Parliament in this respect should be deferred to and the Commitee, therefore, so opines," the final draft read.

While one view was to completely exclude Prime Minister, an equally strong contention was for his inclusion subject to certain safeguards while a third option was to include him with a rider that he should liable for action/prosecution only after he demits office.

The safegaurds recommended by some of the members while inluding Prime Minister under Lokpal were issues relating to national security, foreign affairs, atomic energy and space.  It was also suggested that "national interest" and "public order" also be incorporated as safeguards in this regard.

It recomended that Group C and D category officials in the Centre "shall be brought specifically under the jurisdiction of the CVC".

It said the CVC should be made to to exercise powers identical or at least largely analogus, in respect of class C and D officials as the Lokpal will do for group A and B category officials.

The panel had earlier decided to include Group C employees under Lokpal's ambit but had done a U-turn the very next day  following stiff opposition from Congress members in the panel.

In the final draft, the Committee has recommended that officials in the state government who are equivalent to Group C and D at the Centre should be included within the jurisdiction of state Lokayuktas "with no exclusion".

It said employees of state-owned or controlled entities should also be covered.