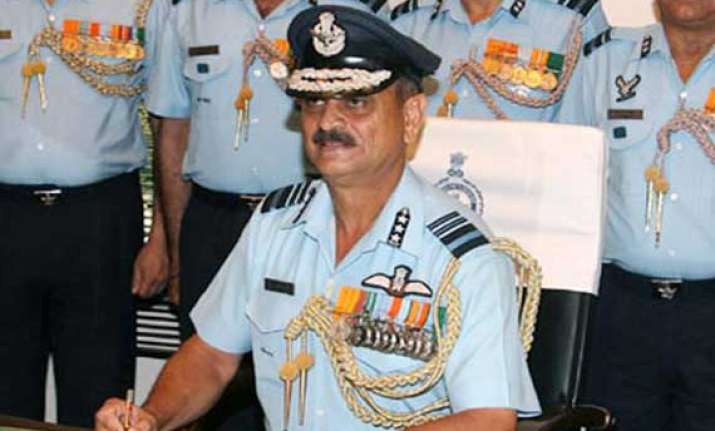 Bangalore: Air Chief Marshal Arup Raha today said there was no tension as such in the wake of repeated ceasefire violations by Pakistan but "we are all prepared".
"We all are prepared, there are no tensions as such if you ask me...this is nothing exception, this has been happening, and our response has been appropriate," Raha told reporters.
He was replying to a question on preparedness and response of armed forces to repeated ceasefire violations by Pakistan.
Raha, also Chairman of Chief of Staff Committee, said, Army is there, BSF (Border Security Fore) is there, the Air force is not directly involved, but things are not that bad.
To a question, Raha said, "There is a lot of thrust being given on indigenous production of military hardware and I think this (Narendra Modi) government is also serious about pushing it further to take it to higher level."
Stating that the armed forces were looking forward to indigenous products, he said, "We don't want to buy weapon systems and hardware from outside. We should be self reliant and there is going to be lot of action in this direction."
Asked about delay in projects relating to indigenous Tejas Light Combat Aircraft and Intermediate Jet Trainer (IJT), Raha said, "...they are delayed slightly, but this happens in any indigenous production. First time we are doing it, there are many countries who have been at it for many many years..."
Declining to comment on whether any kind of replacement for IJT was being considered, he said "...We will get the IJT on time."
The IAF chief was here to inaugurate the 54th Annual Conference of Indian Society of Aerospace Medicine (ISAM).
Addressing the conference, he emphasised the role of Aerospace Power in recent conflicts and brought out that it was the weapon of choice due to its reach, precision and speed of operations.
He said Aerospace power plays an important role both in war and peace.