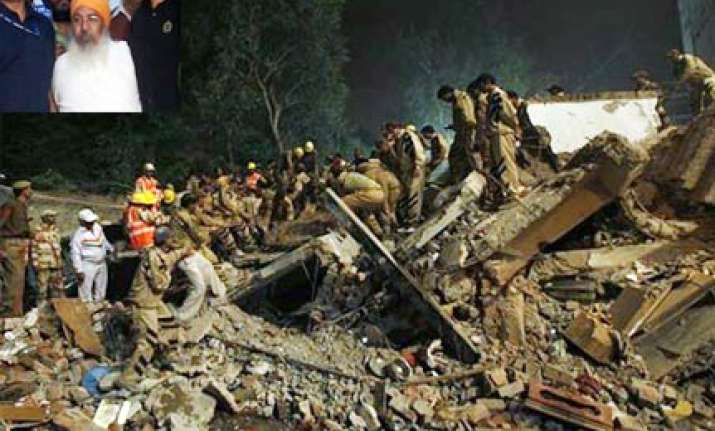 Sardar Amrit Singh, 57, the Sikh owner of the doomed building N-85, Narayan Nagar, N Block near Lalita Park in East Delhi was collecting his monthly rent from tenants outside his 200 sq yards building, on Monday evening,  when all of a sudden  the  entire structure shook and collapsed like a pack of cards, eye witnesses revealed.
Amrit Singh fled to his home, took his family members away, locked his home and vanished. 
Most of the tenants living inside the 70 pigeonhole  rooms (10' x 10') of the illfated building were Bengali-speaking migrants from West Bengal and Bangladesh. They were daily wage labourers, masons, plumbers, icecream, vegetable and fruit vendors from Kolkata, Malda, Murshidabad and places from Bihar and UP. 
They used to pay Rs 2,000-2,500 monthly rent to Amrit Singh. While the menfolk worked as labourers, their women and daughters worked as housemaids. Water that had accumulated in the basement since the September rains was the main cause for the building to fall like a pack of cards. 
A neighbouring shopkeeper who saw the disaster said, nearly 250 people were inside the building when it suddenly collapsed. Most of the victims were women and children who were inside the building while the menfolk were about to return from work.  Entire families perished in the building collapse, neighbours said.  
The fire brigade, MCD and Delhi government's much vaunted  National Disaster Rescue Service have managed to remove only half of the debris till Tuesday morning, with nearly 100 people suspected to be lying inside the debris. Forty people were rescued in the first hour of the disaster.
Delhi Police took 90 minutes to reach the spot after disaster struck. Amrit Singh is the owner of five residential buildings in this locality, all unauthorized, but "regularized" according to babudom terminology.  
Building no. N-118, also adjoining the ill-fated N-85 and owned by Amrit Singh, is seven-storeyed (including basement) and is also in danger of collapsing.  
Amrit Singh also owns a two-storeyed building near the local Hanuman temple. It is dilapidated and open from three sides. More than 30 tenants live in this building.  
The most surpsing aspect is that another of Amrit Singh's buildings is under construction adjoining the local gurudwara right under the nose of MCD and police officials. 
Lalita Park, Ramesh Park, Narayan Nagar, Shakar Pur, Vijay Chowk are some  adjoining localities, where  rampact unauthorised constructions have flourished over the years on a Yamuna soil said to be soft. The buildings likely to face danger are those which have basements built under the structure.  
The garment export market in nearby Ramesh Nagar has a large number of buildings which have basements inside. Most of these buildings have water seeping in from the walls of the basement, which they clear up every morning using water pumps.  
All in all,  the entire neighbourhood in this part of East Delhi is presently living on the edge of a powderkeg, ready to face disaster, any time.